27 september:

Polaris, Alpha Wolf, Gravemind en Stepson
28 september:

Obscura, Persefone en Disillusion
29 september:

Djevel, Helleruin en Wrang
Visions Of Atlantis, Xandria en Ye Banished Privateers
Watain, Abbath, Tribulation en Bølzer
30 september:

Gaahls Wyrd, Saor en Gaerea
Geoff Tate, Crimes Of Passion en Demonhead
Kingfisher Sky en Ann My Guard
Soen
Visions Of Atlantis, Xandria en Ye Banished Privateers
Vola
1 oktober:

Hypocrisy, Septicflesh, The Agonist en Horizon Ignited
Mudhoney
Soen
Vola
2 oktober:

Amon Amarth, Machine Head en The Halo Effect
Geoff Tate, C.O.P. UK en DemonHead
Hypocrisy, Septicflesh, The Agonist en Horizon Ignited
Watain, Abbath, Tribulation en Bølzer
Kalender
Vandaag jarig:
Dennis Pepa (Death Angel) - 55
John Tempesta (White Zombie) - 58
Jussi-Mikko Salminen (HIM) - 45
Mika (Withering) - 45
Raphaël Couturier (Carcariass) - 49
Sami Vänskä (Nightwish) - 46
Steve Venardo (Airged L'amh) - 45
Vandaag overleden:
Brian Redman (3 Inches Of Blood) - 2009
Robert Palmer (The Power Station) - 2003
Iron Maiden en meer naar Wacken 2023
Geplaatst op 06 augustus 2022 om 22:30u
Traditiegetrouw maakt Wacken Open Air op de laatste dag altijd de eerste namen voor het volgende jaar bekend. Vandaag is geen uitzondering, want het festival heeft de volgende namen al weten te strikken voor 2023: Iron Maiden, Megadeth, The Dropkick Murphys, Wardruna, Jinjer, Beartooth, Two Steps From Hell, Ensiferum, Deicide, Pentagram, Nervosa en Burning Witches. Wacken Open Air vindt volgend jaar plaats van 2 t/m 5 augustus en duurt dus officiëel vier dagen.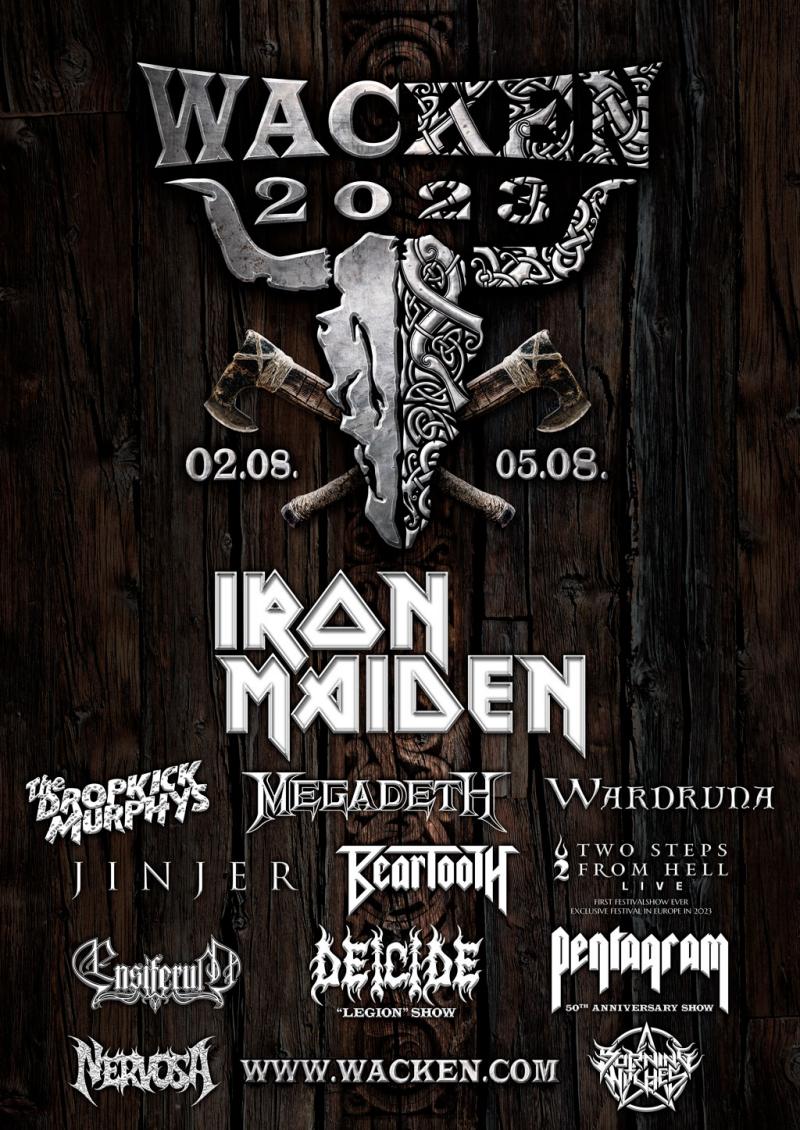 Alle artikelen en foto's (afgezien van albumhoezen, door bands/labels/promoters aangeleverde fotos of anders aangegeven), zijn © 2001-2022 Metalfan.nl, en mogen niet zonder schriftelijke toestemming gekopieerd worden. De inhoud van reacties blijven van de reageerders zelf. Metalfan.nl is niet verantwoordelijk voor reacties van bezoekers. Alle datums van de Nieuwe Releases, Concertagenda, Kalender en in de artikelen zijn onder voorbehoud.