Kalender
Vandaag jarig:
Balsac: The Jaws of Death (Gwar) - 54
Charlie Clouser (Nine Inch Nails) - 59
Desderoth (Hellsaw) - 38
Fabio Gremo (Daedalus) - 46
Jon Nödtveidt (Dissection)† - 47
Kjetil-Vidar "Frost" Haraldstad (Satyricon) - 49
Kurdt Vanderhoof (Metal Church) - 61
Matthias "Metalmachine" Liebetruth (Running Wild) - 52
Vincent Poliquin (Icewind) - 39
Zoltán Maróthy (Ossian) - 55
Cattle Decapitation vervangt The Black Dahlia Murder op Dynamo Metalfest
Geplaatst op 23 juni 2022 om 11:12u
Onlangs kwam het tragische nieuws dat The Black Dahlia Murder-frontman Trevor Strnad uit het leven gestapt is. Logischerwijs zal de band dus ook niet optreden op Dynamo Metalfest. De organisatie heeft met Cattle Decapitation een waardige vervanger gevonden. De band zal op de zaterdag van het festival optreden. Die dag kun je ook onder meer Testament, Candlemass, Exodus en Death Angel verwachten, terwijl je een dag later van bijvoorbeeld Kreator, Heaven Shall Burn, Lamb Of God, Cannibal Corpse en de speciale Bay Area Interthrashional-show kan genieten.
Dynamo Metalfest vindt op zaterdag 20 en zondag 21 augustus plaats in het IJssportcentrum te Eindhoven. Entreebewijzen van 2020 en 2021 blijven geldig voor 2022. Combitickets kosten 79 euro en dagkaarten 49 euro. Meer informatie vind je op www.dynamo-metalfest.nl.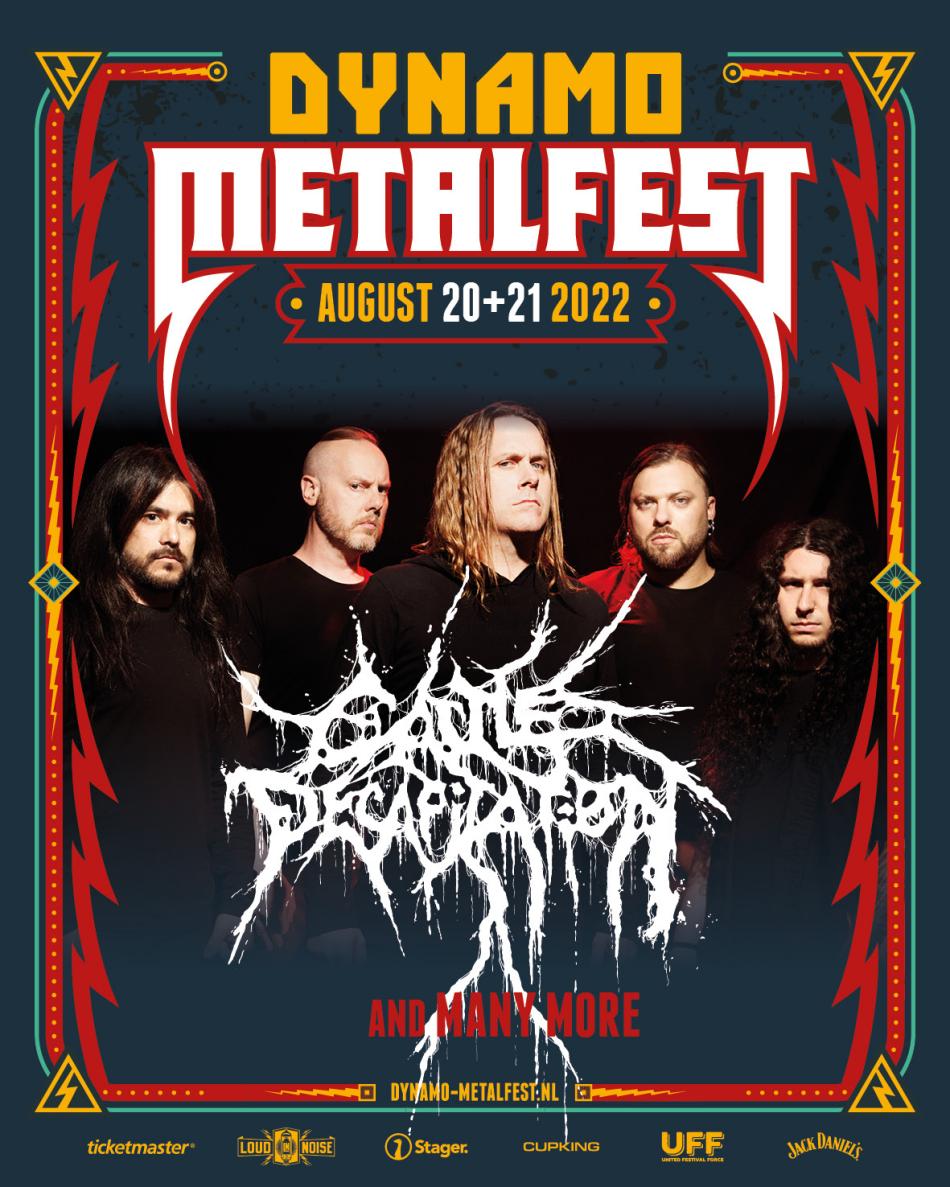 Zaterdag 20 augustus:
Testament
Candlemass
Exodus
Death Angel
Cattle Decapitation
Firewind
Vended
Dress The Dead
Tankzilla
Zondag 11 augustus:
Kreator
Heaven Shall Burn
Lamb Of God
Bay Area Interthrashional
Cannibal Corpse
Sacred Reich
Nestor
Rings Of Saturn
Lik
Alle artikelen en foto's (afgezien van albumhoezen, door bands/labels/promoters aangeleverde fotos of anders aangegeven), zijn © 2001-2022 Metalfan.nl, en mogen niet zonder schriftelijke toestemming gekopieerd worden. De inhoud van reacties blijven van de reageerders zelf. Metalfan.nl is niet verantwoordelijk voor reacties van bezoekers. Alle datums van de Nieuwe Releases, Concertagenda, Kalender en in de artikelen zijn onder voorbehoud.