Kalender
Vandaag jarig:
Balsac: The Jaws of Death (Gwar) - 54
Charlie Clouser (Nine Inch Nails) - 59
Desderoth (Hellsaw) - 38
Fabio Gremo (Daedalus) - 46
Jon Nödtveidt (Dissection)† - 47
Kjetil-Vidar "Frost" Haraldstad (Satyricon) - 49
Kurdt Vanderhoof (Metal Church) - 61
Matthias "Metalmachine" Liebetruth (Running Wild) - 52
Vincent Poliquin (Icewind) - 39
Zoltán Maróthy (Ossian) - 55
Eerste namen voor Helldorado
Geplaatst op 23 juni 2022 om 11:06u
Helldorado heeft de eerste namen aangekondigd. Het festival keert op 19 november eindelijk terug en heeft dit jaar The Hellacopters, Clutch, Peter Pan Speedrock, Dopelord, The Monsters, Green Lung, Temple Fang, Cobra The Impaler en Pendejo op het programma staan, maar daar komen nog vele namen bij. Plaats delict is wederom het Eindhovense Klokgebouw. De voorverkoop begint aanstaande zaterdag om 10 uur. Alle informatie vind je op www.helldorado.nl.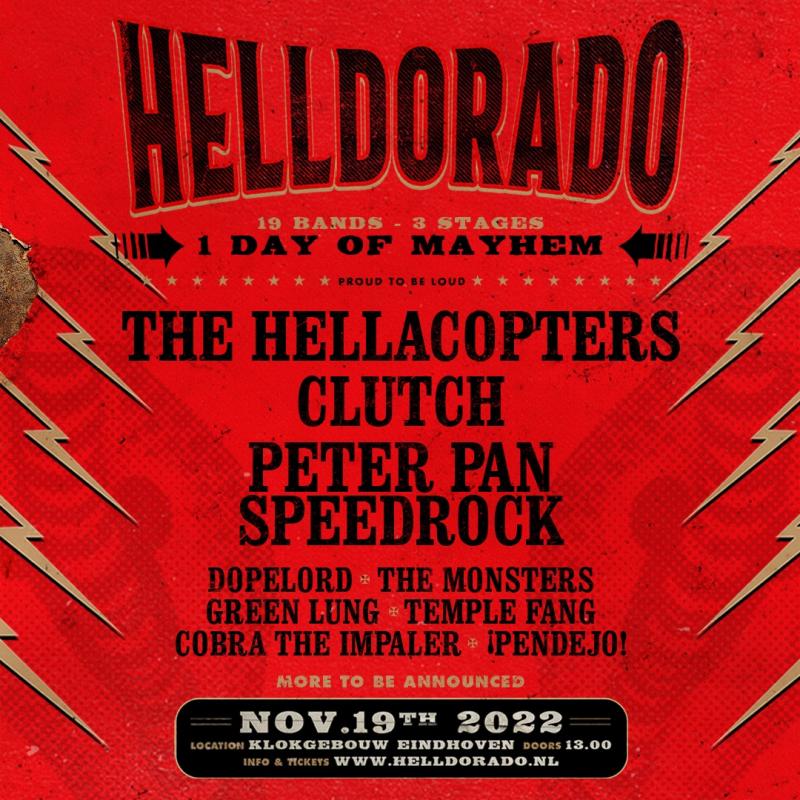 Alle artikelen en foto's (afgezien van albumhoezen, door bands/labels/promoters aangeleverde fotos of anders aangegeven), zijn © 2001-2022 Metalfan.nl, en mogen niet zonder schriftelijke toestemming gekopieerd worden. De inhoud van reacties blijven van de reageerders zelf. Metalfan.nl is niet verantwoordelijk voor reacties van bezoekers. Alle datums van de Nieuwe Releases, Concertagenda, Kalender en in de artikelen zijn onder voorbehoud.