Kalender
Vandaag jarig:
Balsac: The Jaws of Death (Gwar) - 54
Charlie Clouser (Nine Inch Nails) - 59
Desderoth (Hellsaw) - 38
Fabio Gremo (Daedalus) - 46
Jon Nödtveidt (Dissection)† - 47
Kjetil-Vidar "Frost" Haraldstad (Satyricon) - 49
Kurdt Vanderhoof (Metal Church) - 61
Matthias "Metalmachine" Liebetruth (Running Wild) - 52
Vincent Poliquin (Icewind) - 39
Zoltán Maróthy (Ossian) - 55
Tijdschema van Stonehenge bekend
Geplaatst op 22 juni 2022 om 08:02u
Op zaterdag 30 juli vindt Stonehenge plaats nabij het treinstation van Steenwijk. Onder de 29 bands bevinden zich Samael, Marduk, Suffocation, Misery Index, Beheaded, Benighted en Malevolent Creation. De organisatie heeft het tijdschema bekend gemaakt. De tickets zijn bijna uitverkocht. Meer informatie vind je op de website van Stonehenge.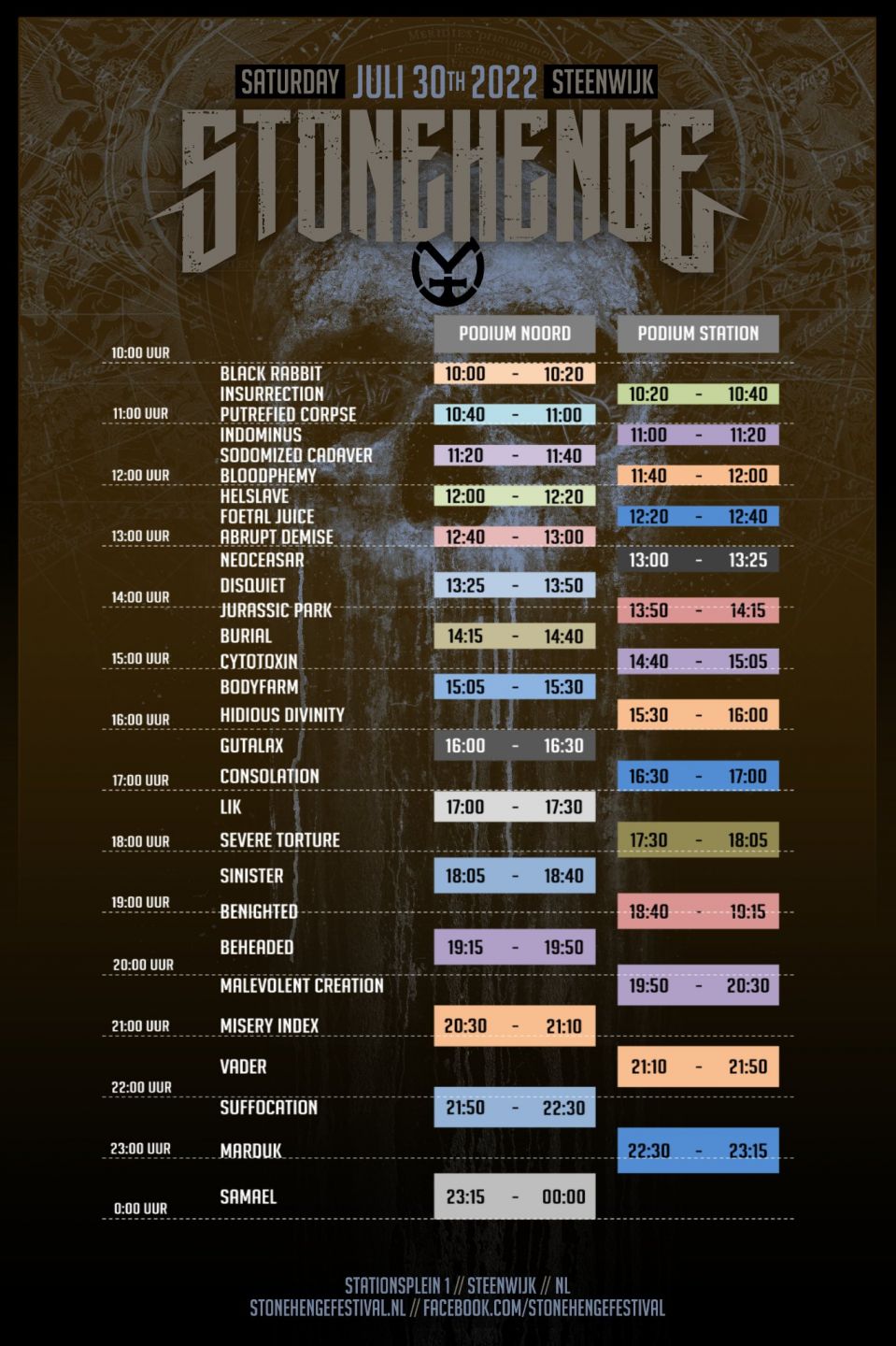 Alle artikelen en foto's (afgezien van albumhoezen, door bands/labels/promoters aangeleverde fotos of anders aangegeven), zijn © 2001-2022 Metalfan.nl, en mogen niet zonder schriftelijke toestemming gekopieerd worden. De inhoud van reacties blijven van de reageerders zelf. Metalfan.nl is niet verantwoordelijk voor reacties van bezoekers. Alle datums van de Nieuwe Releases, Concertagenda, Kalender en in de artikelen zijn onder voorbehoud.