Iron Maiden - Rock In Rio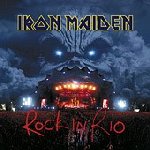 Officieel is het Iron Maiden's 4e live album, als je A Real Live One en A Real Dead One uit 1993 als 1 telt, en Live At Donington ook meetelt. Het lijkt misschien wat veel, maar bedenk wel dat er tussen
Live After Death
en
A Real Live Dead One
8 jaar tijd zat, en tussen die laatste en
Rock In Rio
bijna 9 jaar. Door ze allemaal te luisteren krijg je natuurlijk wel een mooi beeld van Iron Maiden door de jaren heen. Op dit nieuwe live album, wat opgenomen is tijdens het Rock In Rio festival op 19 januari 2001, bewijst Iron Maiden weer hoe goed ze live zijn.
De 19 songs zijn verspreid over twee cds, en de tracklist is hetzelfde als op praktisch heel de Brave New World Tour van 2000/2001, waarop de band ook Dynamo Open Air aandeed. Veel materiaal van het meest recente studio album dus. De oudere nummers zijn bijna allemaal al een keer op een live album verschenen, met uitzondering van Sign Of The Cross. En laat nou net dat nummer juist een van de meest interessante nummers op het album zijn, want dat is niet alleen een van de beste nummers die de band opnam met Blaze Bayley, maar ook Bruce Dickinson klinkt hierop fantastisch. Bruce klinkt sowieso een heel stuk beter dan op de live albums uit 1993.
Zoals eerder gezegd is het meeste materiaal van het Brave New World album, wat voornamelijk aan het begin van het album staat. Hoe verder naar achter, hoe ouder het materiaal wordt. Erg goeie live versies van onder andere The Trooper, Hallowed Be Thy Name en Fear Of The Dark kom je onder andere tegen. Ook het nieuwe materiaal wordt erg lekker gespeeld, en daarop worden de 3 gitaristen iets beter gebruikt als op het oudere materiaal (wat natuurlijk maar voor 2 gitaristen geschreven was).
Ik heb echter één kleine klacht, en dat is dat er nu eigenlijk wel genoeg live uitvoeringen zijn van The Trooper, The Number Of The Beast, Wrathchild en Run To The Hills. Voor wie nog geen live cd van Iron Maiden heeft maakt dat niet uit, voor de fans misschien wel. Maar goed, ook de ouwe nummers klinken erg lekker weer hoor, wees niet gerust. En met een 250.000 koppig publiek dat lekker meebrult klinkt het alleen maar leuker.
De 2 cds bevatten ook nog 2 videos (op elke cd 1). De ene is een live opname van Brave New World zoals die ook op de dvd versie van Rock In Rio zal staan, die als het goed is dit jaar nog uitkomt. De andere clip is A day in the life, wat dus laat zien wat Iron Maiden de dagen voor het Rock In Rio festival zoal deed. Ook dit zal denk ik wel op de dvd staan.
Tracklist:
1. Intro
2. The Wicker Man
3. Ghost Of The Navigator
4. Brave New World
5. Wrathchild
6. 2 Minutes To Midnight
7. Blood Brothers
8. Sign Of The Cross
9. The Mercenary
10. The Trooper
11. Dream Of Mirrors
12. The Clansman
13. The Evil That Men Do
14. Fear Of The Dark
15. Iron Maiden
16. The Number Of The Beast
17. Hallowed Be Thy Name
18. Sanctuary
19. Run To The Hills
Score: 92 / 100

Reviewer: Tonnie
Toegevoegd: 26 maart 2002
Koop dit album in
Meer Iron Maiden:
Iron Maiden - Rock In Rio
Reactie van Een_Metalfan op 27-03-2002 om 04:46u
Score: 95 / 100
The Trooper is wat interessanter door de solo die Adrian en Janick delen en Wrathchild door de vele solo's van alledrie de gitaristen die niet voorkwamen op de voorgaande live-versie's. Voor de rest voegen Number Of the Beast, Run To The Hills en andere oudjes niks toe aan de oude versie's. Maar voor de rest een geweldige live-album die stukken beter is dan degenen uit de jaren '90 en net zo goed als Live After death. Kipman
Iron Maiden - Rock In Rio
Reactie van HetfieldIsGod op 30-03-2002 om 06:02u
Score: 10 / 100
Wooohooo ik heb 'm ook en hij is geweldig. En wat is die cover toch mooi he? Zoals ie van afbeelding veranderd bij het bewegen... Ook die video's erop zijn suuuuuper vet.
Iron Maiden - Rock In Rio
Reactie van Een_Metalfan op 17-04-2002 om 12:20u
Score: 100 / 100
Dit is ekers et beste maiden album tot nu toe. Enne ff over de live versies van de trooper, enz. Die zijn er wel genoeg maar niet met drie gitaren dus ze klinken veel voller en ook al heb ik de ander 5 live albums ook, vind ik deze toch onmisbaar in me maiden collectie. Ik kan over et album aleen zeggen, DIT IS METAL OP ZEN BEST!!!!!. lUCHADOR
Iron Maiden - Rock In Rio
Reactie van nwobhm op 18-07-2003 om 14:18u
Score: 95 / 100
de eerste cd is klasse, de 2de ... (behalve nr 4!!!) vind ik zelf wat minder. kan ook misschien komen doordat er minder bekende nummers op staan... maakt voor mij niet uit hoe dikwijls dezelfde liedjes op hun cd's terug te vinden zijn, het zijn en blijven klassiekers die je niet beu geluisterd geraakt... het geeft wel steeds een bepaald effect als je ze nog eens op een anders cd hoort...
Iron Maiden - Rock In Rio
Reactie van metfan op 01-02-2004 om 10:18u
Score: 80 / 100
Het eerste materiaal dat ik van Iron Maiden in handen kreeg, de DVD versie. Iron Maiden is live onvoorstelbaar goed, vooral Ghost Of The Navigator vond ik erg mooi. Alleen Brave New World zap ik voorbij, er is iets aan dat nummer waardoor ik m'n aandacht er niet bij kan houden. Maar verder is het oppietoppie! (jottum) Ik ga zeker nog wat materiaal van ze aanschaffen!
Iron Maiden - Rock In Rio
Reactie van Een_Metalfan op 19-07-2004 om 17:59u
Score: 100 / 100
Heb net de DVD en deze is echt super goed.Maiden blijft gewoon super!!!
Iron Maiden - Rock In Rio
Reactie van MaidenFan op 16-08-2005 om 07:32u
Score: 90 / 100
Ik vond wel dat Bruce's zang bij The Wicker Man wat geforceerd overkwam, zijn stem klonk nog al schor. Maar voor de rest is het natuurlijk een fantastisch album.
Iron Maiden - Rock In Rio
Reactie van fred op 24-11-2005 om 15:52u
Score: 60 / 100
Iron Maiden blijft een goede live band. Echter zijn er naar mijn smaak te veel live albums uitgebracht door de heren. Zelf heb ik een aantal bootlegs uit de periode 82-90 en die zijn m.i. interessanter dan de regulier live cd's . klinken wat minder gepolijst. Das war es.. Fred
Iron Maiden - Rock In Rio
Reactie van metalkev op 03-03-2006 om 18:14u
Score: 100 / 100
zalug album