Torture Wheel - Crushed Under...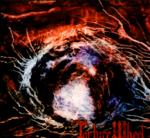 Onlangs besprak ik van deze band al de
split cd met Uncertainty Principle
, uitgebracht op cd-r format door het Vlaamse NULLL Records. Het Finse Firedoom label hoorde blijkbaar de uitstekende funeral doom van raddraaier E.M. Hearst en zag er wel brood in, getuige de fraaie
Torture Wheel
digipack die begin januari in de winkels zal liggen.
De Crushed Under… release bevat drie nummers die al op de split cd verschenen, evenals een voorheen onuitgebrachte track. Voor een beschrijving van Broken By the Wheel, Shadow Sect en Mary verwijs ik je door naar mijn bespreking van de split, want het interessantste is natuurlijk het 'nieuwe' werkje, waar tevens het album naar vernoemd is.
Helemaal nieuw is het nummer echter niet, aangezien het al in 2003 opgenomen werd en op een nooit uitgebrachte compilatie zou verschijnen. Crushed Under… onthult een heel andere kant van Torture Wheel; het is namelijk een geslaagde poging tot het maken van een soort industrial doom, met veel elektronische klanken. De beklemmende sfeer die de nummers van de split cd typeerden is hier echter ook aanwezig, en ik zou het niet betreuren als Hearst dit gebied op toekomstige releases verder zou verkennen. Tezamen met de drie bekendere tracks vormt Crushed Under… gewoon een uitstekende eerste langspeler. Wat overigens met een speelduur van 'slechts' drie kwartier voor doom begrippen natuurlijk niet helemaal correct is.
Het doet me deugd dat Firedoom het op zich heeft genomen dit prima materiaal gemakkelijker verkrijgbaar te maken. Later in 2005 zal het eerste 'echte' album van Torture Wheel verschijnen. De verwachtingen zijn hier alvast hoog gespannen.
Tracklist:
1. Broken by the Wheel
2. Shadow Sect
3. Mary
4. Crushed Under...
Reviewer: Patrick T.
Toegevoegd: 26 december 2004 Koop dit album in
Meer Torture Wheel: