3 oktober:

Astrosaur
Flotsam & Jetsam en Behind Bars
Liturgy
4 oktober:

Cerebral Incubation en Epicardiectomy
Flotsam & Jetsam
Public Image Ltd.
6 oktober:

Arena
Man As Plague, Bloodsucker en Youth Deprivation
Pain, Ensiferum, Eleine en Ryujin
ProgPower
7 oktober:

Future Palace
Loud & Heavy Fest
Pain, Ensiferum, Eleine en Ryujin
ProgPower
8 oktober:

Future Palace
Therapy?
2 november:

Elder en Slomosa
Gothminister, King Satan en Psycholies
Kalender
Vandaag jarig:
Annie Leibovitz (fotograaf) - 74
Brittany Howard (Alabama Shakes) - 35
George Pettit (Alexisonfire) - 41
Gordon "Sting" Sumner (The Police) - 72
Jeff Martin (The Tea Party) - 54
Jim Root (Slipknot) - 52
Kleid (Elvenking) - 45
Maja Ivarsson (The Sounds) - 44
Mike Rutherford (Genesis) - 73
Nick Gravenites (The Electric Flag) - 85
Paolo "Paco" Gianotti (Secret Sphere) - 45
Richard Hell - 74
Vier nieuwe namen voor Stonehenge
Geplaatst op 16 september 2023 om 18:06u
Stonehenge heeft vandaag weer vier bands aan de line-up toegevoegd, waaronder twee Nederlandse. Het zijn Sabiendas uit Duitsland, Mortuous uit de Verenigde Staten en uit eigen land komen Haliphron en The Lucifer Principle naar Steenwijk. Eerder waren onder meer Belphegor, Defleshed, Inhume en Birdflesh al bevestigd. Het Stonehenge Festival vindt volgend jaar plaats op 27 juli op het Stationsplein in Steenwijk. Alle informatie vind je op www.stonehengefestival.nl.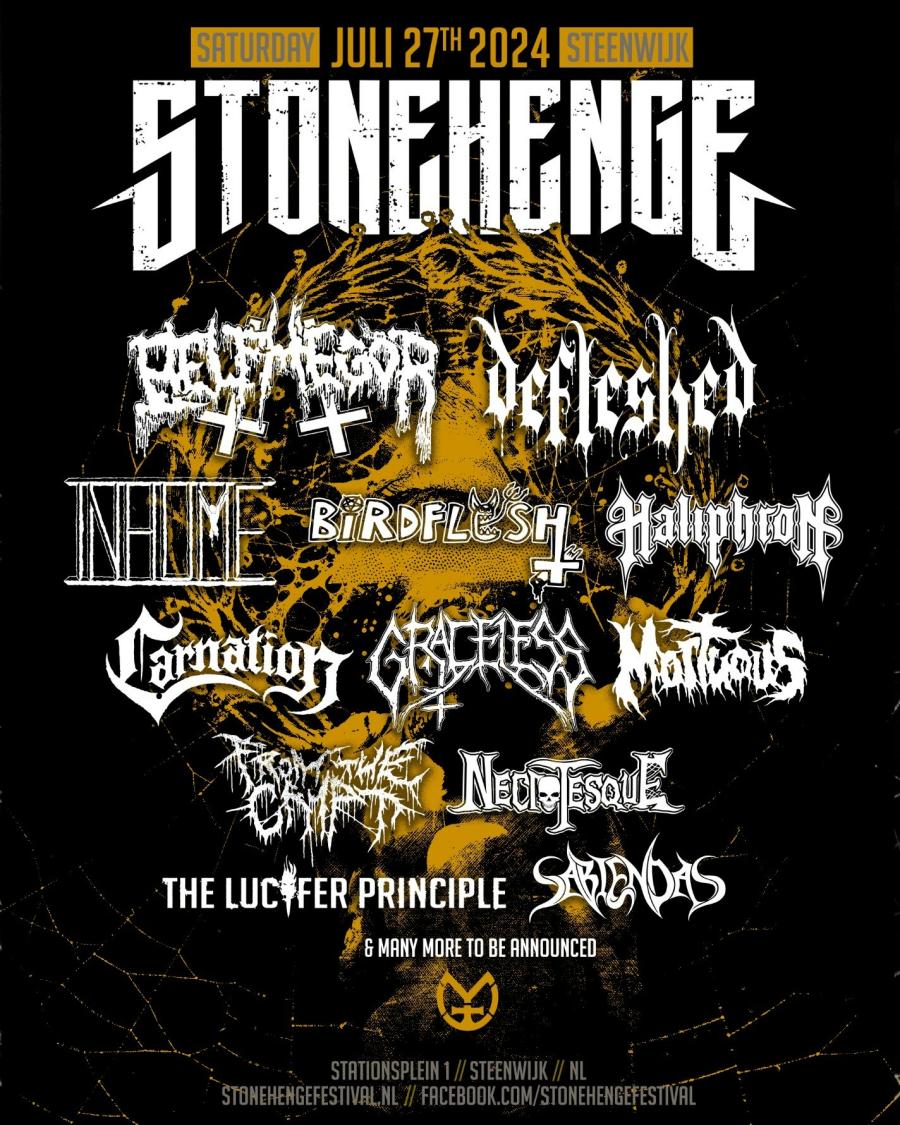 Alle artikelen en foto's (afgezien van albumhoezen, door bands/labels/promoters aangeleverde fotos of anders aangegeven), zijn © 2001-2023 Metalfan.nl, en mogen niet zonder schriftelijke toestemming gekopieerd worden. De inhoud van reacties blijven van de reageerders zelf. Metalfan.nl is niet verantwoordelijk voor reacties van bezoekers. Alle datums van de Nieuwe Releases, Concertagenda, Kalender en in de artikelen zijn onder voorbehoud.