28 april:

Aephanemer
Cobra The Impaler, Bark en Hippotraktor
Graveyard en Kadavar
Metallica Amsterdam Takeover
Neverus, Sisters Of Suffocation en Vanaheim
Temple Fang en Baklawai
Kalender
Vandaag jarig:
Ari Nissilä (Catamenia) - 51
Daniel Cardoso (Anathema) - 42
Douglas J. Sylvia (Fear Of God) - 58
Enrico Canu (Heimdall) - 37
Erick Avila (Six Magics) - 44
John Evan (Jethro Tull) - 75
Nathanaël "Nath" (Anachronia) - 39
Ol Drake (Evile) - 39
Nieuwe single van Fleddy Melculy
Geplaatst op 18 maart 2023 om 15:00u
Aan het einde van deze maand brengt Fleddy Melculy de nieuwe plaat Antichlist uit. De Belgen hebben al diverse singles hiervan uitgebracht, waarvan deze week de nieuwste is uitgebracht: Nee! Kort na de release is de band weer veelvuldig live te zien, te beginnen op Paaspop in Schijndel. Daarna volgen nog shows in diverse plaatsen in Nederland en België. Ook worden er deze zomer weer wat festivals aangedaan, waaronder Rock Affligem in het Belgische Affligem en Dynamo Metalfest in Eindhoven.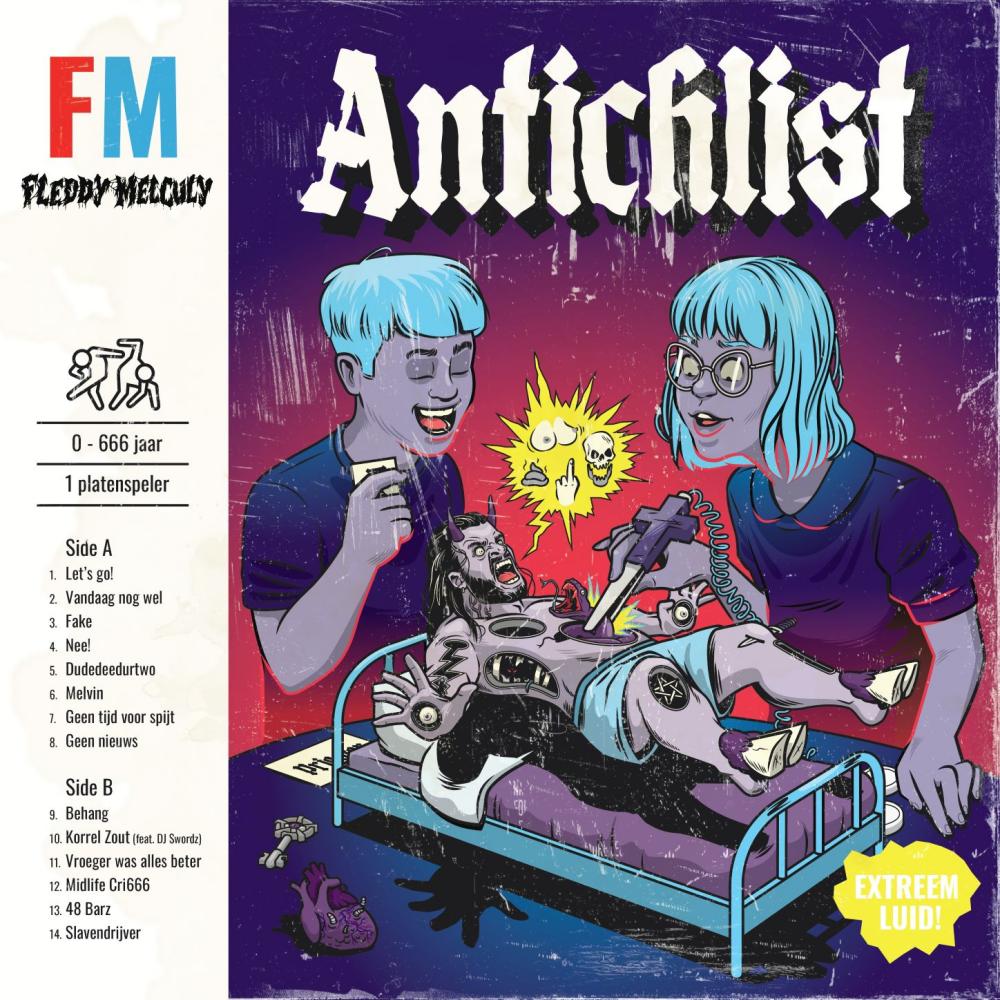 Tracklist:
1. Let's Go!
2. Vandaag Nog Wel
3. Fake
4. Nee!
5. Dudedeedurtwo
6. Melvin
7. Geen Tijd Voor Spijt
8. Geen Nieuws
9. Behang
10. Korrel zout (feat. DJ Swordz)
11. Vroeger Was Alles Beter
12. Midlife Cri666
13. 48 Barz
14. Slavendrijver
Alle artikelen en foto's (afgezien van albumhoezen, door bands/labels/promoters aangeleverde fotos of anders aangegeven), zijn © 2001-2023 Metalfan.nl, en mogen niet zonder schriftelijke toestemming gekopieerd worden. De inhoud van reacties blijven van de reageerders zelf. Metalfan.nl is niet verantwoordelijk voor reacties van bezoekers. Alle datums van de Nieuwe Releases, Concertagenda, Kalender en in de artikelen zijn onder voorbehoud.