8 februari:

Manowar
9 februari:

Napalm Death, Doom, Siberian Meatgrinder en Show Me The Body
10 februari:

Diablo Swing Orchestra
Distant en Changing Tides
Dream Theater
For I Am King en Another Now
Sepiroth, Carceri en Buried
11 februari:

Dizzy Mizz Lizzy en Jesper Binzer
For I Am King en Another Now
John Mitchell
Smyrna Death Fest
12 februari:

Dream Theater
Up The Irons (met Dennis Stratton)
13 februari:

Rolo Tomassi, Holy Fawn en Heriot
Kalender
Vandaag jarig:
Gas Lipstick (HIM) - 52
Morgan "Mogge" Löfstedt (Wulfgar) - 40
Paul Barker (Ministry) - 64
Vince Neil (Mötley Crüe) - 62
Vandaag overleden:
Tony Destra (Cinderella) - 1987
Pitfest voegt veertien bands toe
Geplaatst op 01 december 2022 om 09:43u
Op deze eerste dag van december heeft Pitfest veertien bands aan de line-up toegevoegd. Dit zijn Voivod, Dog Eat Dog, Full of Hell, The Dwarves, Catharsis, Sheer Terror, Nine Pound Hammer, Spectral Wound, Primitive Man, End It, Kjeld, Galvanizer, Mindwar en Connection Lost. Zij voegen zich bij onder meer Mayhem, Marduk, Terror, Madball en Phil Campbell And The Bastard Sons. Pitfest vindt volgend jaar plaats van 30 juni t/m 2 juli aan de Oude Meerdijk te Emmen. Alle informatie vind je op www.pitfest.nl.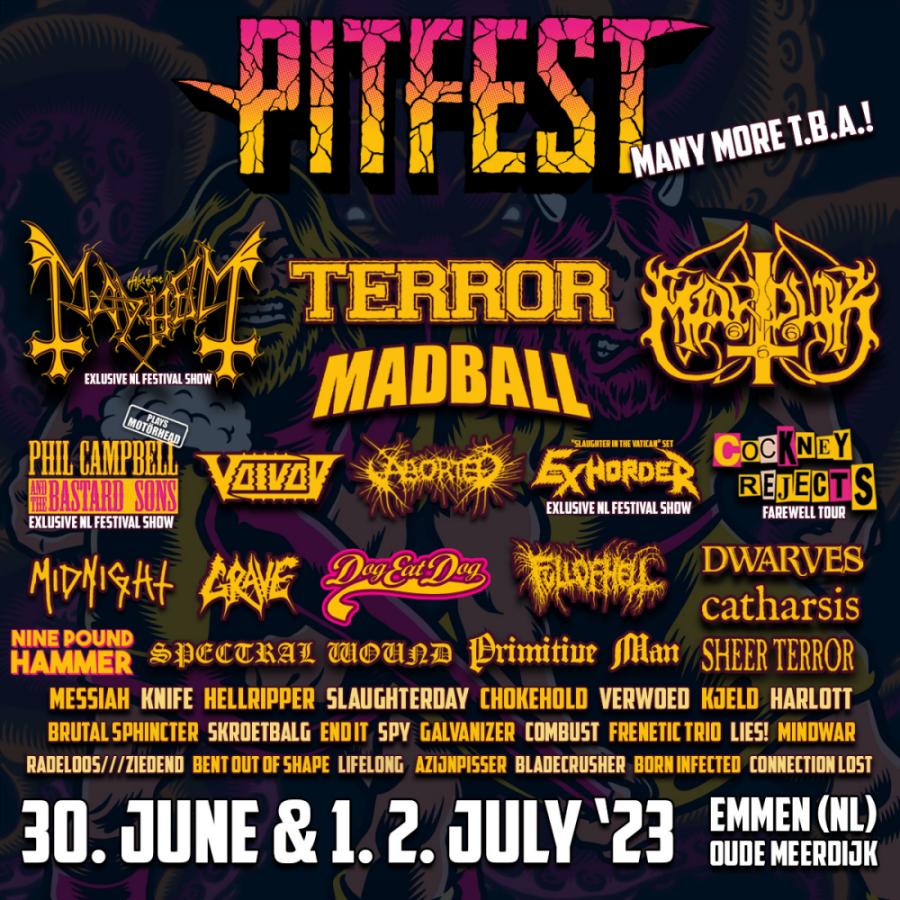 Alle artikelen en foto's (afgezien van albumhoezen, door bands/labels/promoters aangeleverde fotos of anders aangegeven), zijn © 2001-2023 Metalfan.nl, en mogen niet zonder schriftelijke toestemming gekopieerd worden. De inhoud van reacties blijven van de reageerders zelf. Metalfan.nl is niet verantwoordelijk voor reacties van bezoekers. Alle datums van de Nieuwe Releases, Concertagenda, Kalender en in de artikelen zijn onder voorbehoud.