W.A.S.P. - The Neon God part 2: The Demise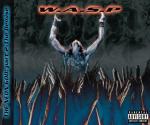 Eerder dit jaar kwam deel 1 van W.A.S.P.'s
The Neon God
uit, getiteld
The Rise
. Tussen de optredens van afgelopen zomer door is frontman Blackie Lawless ook nog druk bezig geweest met het afmixen van het tweede deel van het verhaal,
The Demise
. Een heavy metal plaat in twee delen, dus.
Waar deel 1 eerst aan opbouw deed qua verhaal en muziek, word je bij deel 2 er gelijk middenin gegooid, met het uptempo Never Say Die (geen Black Sabbath cover, overigens). Al snel merk je dan dat er muzikaal niets gewijzigd is (ook bijna niets qua albumcover, trouwens). In andere woorden: The Demise sluit naadloos aan op The Rise. Vooral als dan in Resurrector elementen terugkomen uit Sister Sadie (And The Black Habits) van deel 1, en als blijkt dat titelnummer The Demise een bewerking is van The Rise, is het wel duidelijk dat dit gewoon 1 dubbel-cd had moeten zijn. Daar zit dan ook het minpunt van The Demise: teveel herhaling van het eerste deel.
Ondanks dat zijn de nummers wel weer ouderwets goed, en zitten nog steeds gewoon goed in elkaar. Wederom een vet gitaargeluid, met Blackie's kenmerkende stemgeluid er bovenop, en hier en daar een Hammond orgel erdoor, voor wat extra sfeer. Dit keer staat er maar anderhalve ballad op. Na een rustige intro slaat Clockwork Mary ineens zonder fatsoenlijke overgang om, en daarna is All My Life het laatste rustpuntje. Verder gaat het gas vol open, met beukende nummers als Destiny's To Come en Come Back To Black. De productie is iets verbeterd ten opzichte van deel 1, maar niet in een grootte dat het een wereld van verschil is. Het geheel klinkt net iets helderder.
Wie na het luisteren van The Rise meer wil, kan The Neon God part 2: The Demise blindelings aanschaffen, want je krijgt een album wat er perfect bij past. Wie niets om het verhaal geeft en een album wil vol goed klinkende pure heavy metal, kan met alleen The Demise ook wel uit de voeten.
Tracklist:
1. Never Say Die
2. Resurector
3. The Demise
4. Clockwork Mary
5. Tear Down The Walls
6. Come Back To Black
7. All My Life
8. Destiny's To Come
9. The Last Redemption
Score: 80 / 100

Reviewer: Tonnie
Toegevoegd: 26 september 2004
Koop dit album in
Meer W.A.S.P.: