Kalender
Vandaag jarig:
Balsac: The Jaws of Death (Gwar) - 54
Charlie Clouser (Nine Inch Nails) - 59
Desderoth (Hellsaw) - 38
Fabio Gremo (Daedalus) - 46
Jon Nödtveidt (Dissection)† - 47
Kjetil-Vidar "Frost" Haraldstad (Satyricon) - 49
Kurdt Vanderhoof (Metal Church) - 61
Matthias "Metalmachine" Liebetruth (Running Wild) - 52
Vincent Poliquin (Icewind) - 39
Zoltán Maróthy (Ossian) - 55
Megadeth maakt albumdetails bekend en komt met nieuwe single
Geplaatst op 23 juni 2022 om 19:06u
Àfgelopen maandag was Megadeth nog te zien in Rotterdam, vandaag maakt de band de details van het aankomende album bekend en lanceert de nieuwe single. De nieuwe, zestiende plaat van de legendarische thrashband heet The Sick, The Dying... And The Dead! en zal op 2 september verschijnen. De nieuwe plaat bevat een gastbijdrage van Ice-T (Body Count) en werd opgenomen in Dave Mustaine's eigen studio in Nashville, Tennessee. De baspartijen zijn ingespeeld door Steve DiGiorgio (Testament) nadat de band vorig jaar afscheid nam van David Ellefson. Megadeth heeft vandaag ook de eerste single uitgebracht: We'll Be Back.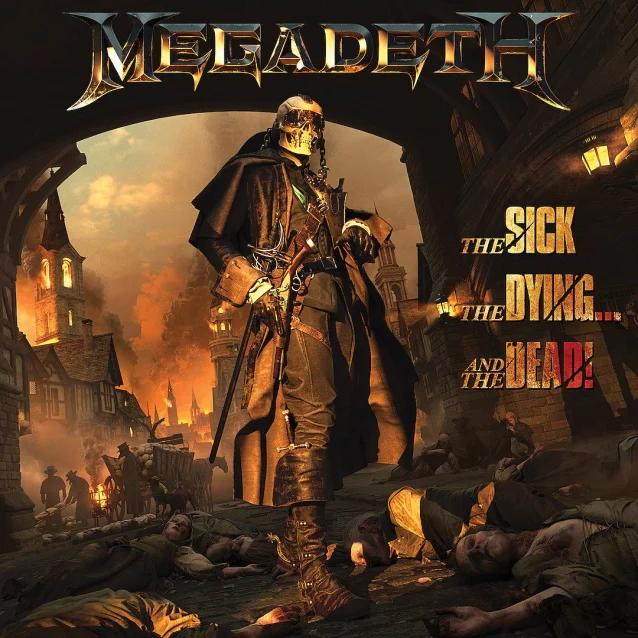 Tracklist:
1. The Sick, The Dying... And The Dead!
2. Life In Hell
3. Night Stalkers (feat. Ice-T)
4. Dogs Of Chernobyl
5. Sacrifice
6. Junkie
7. Psychopathy
8. Killing Time
9. Soldier On!
10. Célebutante
11. Mission To Mars
12. We'll Be Back
13. Police Truck (Dead Kennedys-cover)
14. This Planet's On Fire (Burn In Hell) (Sammy Hagar cover) (feat. Sammy Hagar)
Alle artikelen en foto's (afgezien van albumhoezen, door bands/labels/promoters aangeleverde fotos of anders aangegeven), zijn © 2001-2022 Metalfan.nl, en mogen niet zonder schriftelijke toestemming gekopieerd worden. De inhoud van reacties blijven van de reageerders zelf. Metalfan.nl is niet verantwoordelijk voor reacties van bezoekers. Alle datums van de Nieuwe Releases, Concertagenda, Kalender en in de artikelen zijn onder voorbehoud.