Fractal Universe - Engram Of Decline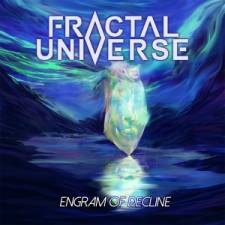 Fractal Universe is een technische deathmetalband uit Frankrijk die in de zomer van 2014 is opgericht door gitarist Hugo Florimond (Slatsher) en gitarist/vocalist Vince Wilquin (Dehumanize, Scarred, ex-Amoeba, ex-My Oath To Madness). Begin 2015 verschijnt de eerste ep
Boundaries Of Reality
, die met behulp van een geslaagde crowdfundingcampagne het levenslicht ziet.
Vervolgens treden de muzikanten een aantal keren op en werken ze aan de eerste full-length die in april 2017 uitkomt. Een groot verschil met de ep is dat er geen gebruik meer is gemaakt van een drumcomputer. Drummer Clément Denys is na het uitbrengen van de ep toegetreden tot de line-up. Een flinke stap voorwaarts, want alhoewel Boundaries Of Reality laat horen dat de mannen technisch vaardig zijn, doet de drumcomputer afbreuk aan het luisterplezier.
Het Franse kwartet maakt er geen geheim van geïnspireerd te zijn door Obscura en Gorod. Die invloeden liggen er dik bovenop. Verder hoor je verwijzingen naar Textures en Beyond Creation. Fractal Universe maakt een kundige en beheerste indruk op deze plaat. Nergens vliegt het uit de bocht en wat het interessant houdt, zijn momenten: de gave riffs in Parracidal Ghosts en Narcissistic Loop, het akoestische gitaarspel en het experiment middels percussie in Venomous Coils Of A Holy Fallacy en het toevoegen van een gesproken gedeelte in het met een goed geïntegreerde saxsolo van Jørgen Munkeby (Shining) verrijkte Backworldsmen.
Dat gesproken gedeelte is een tekst uit Nietzsches Thus Spoke Zarathustra, waarop het concept van dit album is gebaseerd. Het gaat over spiritualiteit, bewustzijn, sociale systemen en jezelf ontdekken. Complex en interessant, zoals ook de muziek, alhoewel je de songs wel vaker moet beluisteren om de herinneringswaarde te pakken te krijgen. Afwisseling is er voldoende tussen blastparts, stukken met fluisterzang en groovy metal. De interesse van de heren rijkt verder dan metal alleen, zoals blijkt uit het mooie, jazzy Venomous Coils Of A Holy Fallacy en klassieke muziek middels pianospel in Backworldsmen. Vince past de variatie ook toe op zijn verschillende zangtechnieken. Doorgaans zet hij zijn extreme vocalen in, maar er is ook ruimte voor gefluister en halfcleane zang.
Engram Of Decline is een zeer verzorgd, melodieus en interessant visitekaartje, zowel muzikaal als conceptueel. Niet overal leidt dit tot memorabele songs, maar er valt voldoende te genieten voor de techdeathfan. Liefhebbers van Obscura en Gorod geven deze Fransen beslist een kans. De gevarieerde muziek ligt prettig in het gehoor dankzij een toereikende productie, die beslist een stap voorwaarts is ten opzichte van de ep.
Tracklist:
1. Premiss To Reality
2. Sons Of Ignorance
3. Scar Legacy Of Hatred
4. Parricidal Ghosts
5. Venomous Coils Of A Holy Fallacy
6. Backworldsmen
7. A Name To Deny
8. Narcissistic Loop
9. Decline
10. Collective Engram
Score: 80 / 100

Reviewer: Jeffrey
Toegevoegd: 20 april 2017
Meer Fractal Universe: