Devil's Witches - Velvet Magic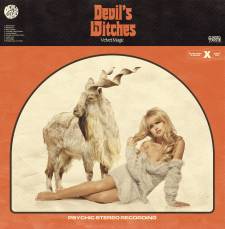 "Psych. Fuzz. Doom. 1960s worship". Dat is de omschrijving van de muziek van Devil's Witches volgens de band zelf. Hierbij is band niet helemaal de juiste term, want feitelijk zit er maar een man achter de muziek. Ene James heeft voor het debuutalbum Velvet Magic alle instrumenten ingespeeld en de nummers voorzien van vocalen. Daarnaast is hij verantwoordelijk voor het randgebeuren rondom Devil's Witches. Het resultaat mag er zijn; Velvet Magic is een kuntswerkje geworden. Een veelzijdig album waarbij er goed nagedacht is over het totaalplaatje.
Velvet Magic is een conceptalbum. Het verhaal achter de plaat heeft raakvlakken met een Jess Franco- of Russ Meyer-film, waarbij zowel erotische als thriller-aspecten in terugkomen. Het heeft daarnaast ook een occulte insteek. Het gaat om een mysterieuze, goddelijke vrouw die ten tijde van de Vietnam-oorlog door middel van seks de aarde probeert te redden. Deze vrouw verleidt een man die betrokken geweest is bij de gruwelijkste horror-achtige taferelen van de oorlog en verlost hem en de mensheid door middel van seks.
Het concept wordt vertolkt in een negental songs, die muzikaal divers van aard zijn. De sound van Devil's Witches is in beginsel te typeren als doom. In de gitaarriffs en ritmesectie zijn vooral Black Sabbath en Electric Wizard te herkennen. Alleen zijn de vaak stuwende gitaarpartijen voorzien van fuzz-effecten. Ook Uncle Acid & The Deadbeats is een band die vaak in gedachte opduikt tijdens het beluisteren. Bijna elke track is wel voorzien van een interessante, melodieus klinkende gitaarsolo. Deze solo's doen vooral denken aan Jimi Hendrix, maar hebben ook iets weg van Frank Zappa's manier van soleren.
Apache Snow, Black Cauldron, Voodoo Woman en Velvet Magic zijn de hoogtepunten van dit album. Het is vooral knap om te horen hoe pakkend de liedjes zijn, terwijl Devil's Witches soms toch best experimenteel te werk gaat. Zo draait het instrumentale Pornodelic Opium Dreams om een kitscherig, repetitief orgeldeuntje. Een vreemd, maar verslavend nummer dat perfect aansluit bij de sfeer van het album. Hetzelfde geldt voor het afsluitende Requiem Pour Un Vampire. Deze dromerige, Franstalige ballade valt muzikaal uit de toon ten opzichte van het overige stevige songmateriaal. In de context van het album zorgt het echter voor een perfect slot van deze sfeervolle plaat.
Velvet Magic is een conceptalbum waar veel tijd en gedachte in gestoken is. Mocht het verhaal je niet interesseren, dan biedt de muziek zelf ook genoeg leuks. De nummers klinken namelijk fris, zijn uiteenlopend, maar vormen gezamenlijk ook een consistent geheel. Al met al een belovende eerste release van deze mysterieuze eenmansformatie.
Tracklist:
1. Apache Snow
2. Motorpsycho
3. Black Cauldron
4. Pornodelic Opium Dreams
5. Voodoo Woman
6. Mountain Of The Devil's Witches
7. Jupiter Kush
8. Velvet Magic
9. Requiem Pour Un Vampire
Score: 82 / 100

Reviewer: Hugo
Toegevoegd: 20 april 2017
Meer Devil's Witches: