Dario Mars And The Guillotines - The Last Soap Bubble Crash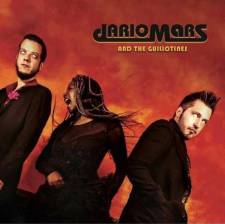 In de afgelopen twee jaar maakte Dario Mars And The Guillotines de lage landen onveilig. Verschillende malen mochten deze Belgen het voorprogramma verzorgen van een aantal bands. Ik zag ze zelf in het voorprogramma van Earthless, eind 2014. Hoewel ik echt niet van dansen houd, kon ik het niet laten om even mee te swingen toen frontvrouw Bineta Saware van het podium sprong om mensen aan het dansen te krijgen. Het was vrij donker in de zaal en ik zal nooit meer de parelwitte glimlach vergeten die ik toen als beloning kreeg.
Wat live enorm spetterde, zwoel en sensueel was, viel op vinyl toch enigszins tegen. Ik kocht het debuutalbum Black Soul kort erna en de magie kwam in de huiskamer niet helemaal over. Op The Last Soap Bubble Crash is dat gelukkig anders en hoor je dat drie jaren van optredens hun vruchten hebben afgeworpen. De band is een stuk beter gaan spelen en het nieuwe album is een voortzetting van Dark Soul. In kwalitatief opzicht is dit werk beter, maar Dario Mars speelt hier nog steeds prettig in het gehoor liggende latinrock. De onlangs aangetreden drummer Barry van Esbroek (ex-Vanderbuyst) is hier nog niet te horen.
Dario Mars geeft je weer het onweerstaanbare gevoel om te swingen. Het geluid heeft iets broeierigs, maar het klinkt tegelijkertijd ook wat duister. Het is alsof er een goede scheut Black Sabbath aan de muziek toegevoegd is. I Wish I Was With You verbindt het beste van al die elementen. Bineta Saware presenteert zich als geweldige frontvrouw en herinnert ons er maar weer aan dat de wereld van rock en metal echt te weinig input krijgt van onze gekleurde medemensen. De exotische invloeden kunnen de muziek erg spannend maken.
Soms worden de latin-invloeden wat losgelaten. Dan hoor je het filmmuziekverleden van Renoud Mayeur of wordt de seventies rock op de voorgrond geplaatst, zoals in het geweldige Soulless. Misschien ken je de band als voorprogramma van Tito & Tarantula. Daar heeft Dario Mars And The Guillotines veel van weg, ware het niet dat deze Belgen veel beter zijn. Dit is de eerste plaat uit 2017 die ik recenseer en het is direct een voltreffer!
Tracklist:
1. Summer Ice
2. Hold On
3. Far From You
4. Gone WIth Sorrows
5. I Wish I Was With You
6. Keep Smiling
7. Vertigo
8. Walk Baby Walk
9. Soulless
10. Strange Happiness
11. I Wanna Be Loved By You

Score: 85 / 100

Reviewer: Ruud
Toegevoegd: 15 februari 2017
Meer Dario Mars And The Guillotines: