Undrask - Battle Through Time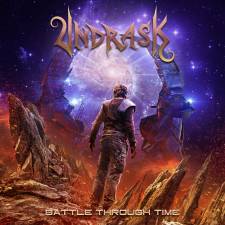 Undrask is een Amerikaanse melodische deathmetalband, die het beste omschreven kan worden als een combinatie van het melodieuze aspect van In Flames en het bombastische karakter van Amon Amarth. De formatie is opgericht in 2013 en heeft tot op het heden alleen nog maar een titelloze ep op zijn naam staan. Met het debuutalbum
Battle Through Time
komt daar nu verandering in.
Battle Through Time is een conceptplaat, die het verhaal vertelt over iemand die tot in de eeuwigheid gedoemd is om te vechten in een andere, vijandelijke realiteit, waarbij hij steeds weer terugkomt als hij sterft. Een idee dat doet denken aan de sciencefictionfilm Edge Of Tomorrow met Tom Cruise, waarbij de hoofdpersonage ongeveer hetzelfde doormaakt. Ondanks die vergelijking is de uitwerking van dit verhaal compleet anders.
Undrask laat meteen al vanaf opener No Graves For The Undead horen waar het de mosterd vandaan haalt. De band is hevig geïnspireerd door de Gothenburg-metalscene en dan met name het vroegere werk van In Flames. Harmonieuze solo's vliegen je om de oren en het gitaarspel van het duo Darryl DeWitt en Erik Collier staat bijna constant op de voorgrond. Dat is dan ook meteen wat deze release zo sterkt maakt. De spetterende riffs en virtuoze solo's vervelen namelijk geen moment.
Songtechnisch steekt Undrask ook sterk in elkaar en weet het met tien klasse nummers op de proppen te komen waar de eenheid vanaf straalt. De ritmesectie staat stevig en vervult zijn rol op de achtergrond ter ondersteuning van de gitaristen en vocalist Steve Wynn. Het is zijn zang echter die de plank af en toe misslaat. Als vocalist levert hij goed werk af, maar noemenswaardig wordt het nergens. Zijn zware grunts lijken af en toe niet te passen bij het melodieuze spel en hij zou iets meer mogen variëren. Doordat hij veelal dezelfde toon en hetzelfde tempo vasthoudt, klinkt hij af en toe eenzijdig en weet hij daardoor de aandacht niet vast te houden. Hierdoor voelt de plaat af en toe wat langdradig aan.
Maar dat neemt niet weg dat Battle Through Time een erg fijn debuut is. Elk nummer heeft zijn klasse en het is vooral genieten wanneer de ruimte wordt genomen voor langere instrumentale passages zoals in Black Ocean of No Graves For The Undead. Ook het epische Longhammer behoort tot de pronkstukken van het album. Hiermee laten de Amerikanen horen over genoeg potentie te beschikken en is het waarschijnlijk een kwestie van tijd voordat de band zijn weg vindt naar een groter publiek.
Tracklist:
1. No Graves For The Undead
2. Conscripted
3. Champion Of The Dawn
4. Black Ocean
5. Embers And Omens
6. Longhammer
7. Primal Revelations
8. Faceless Eye
9. Final Right
10. Battle Through Time

Score: 76 / 100

Reviewer: Marcel
Toegevoegd: 14 februari 2017
Meer Undrask: