Destitution - Beware The Fury Of The Patient Man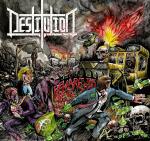 Het Groningse Destitution maakt inmiddels serieuze stappen. Vorig jaar besprak ik nog hun EP met drie goede songs en sinds enkele weken ligt er een überdegelijk debuut op het bureau. De positieve recensies stapelen zich op. Niet te vergeten dat de heren dit jaar de finale van de Metal Battle bereikten en dat zijn heel keurige resultaten. Beter dan ik eerlijk gezegd kon vermoeden en dat is voor Destitution natuurlijk erg mooi.
Zeker als ik terugdenk aan de dagen van Xi-Void, de band die vooraf ging aan Destitution, is er veel gebeurd. De band is hard op weg om een van de betere thrash metalbands van het land te worden. Ze blijven trouw aan het geluid van de jaren tachtig en slaan wegen in waar veel leeftijdsgenoten zich liever niet aan wagen. Technisch zit de metal van Destitution erg goed in elkaar. Het is niet van het niveau Dark Angel, Atrophy of Realm, maar wel een verademing ten opzichte de grote stapel saaie straight forwardbands. Eerlijk gezegd had ik de retrothrash al doodverklaard, maar hier en daar blijven dit soort bandjes met het hart op de juiste plaats opduiken.
Kritiekloos kan ik echter niet blijven. De heren verzuimen regelmatig om songs met kop en staart te maken. De tempowisselingen en gitaarsolo's zijn goed, ondanks dat ze regelmatig op de verwachte tijden verschijnen. Het lijkt soms meer op het resultaat van een reeks goede ideeën dan op een kloppend geheel. Iets wat me intussen lichtelijk begint te irriteren, zijn de zangpartijen. Tristan klinkt me net iets teveel als de eerste de beste schreeuwerd die ze van straat hebben geplukt. Ach, voor hetzelfde geld weet hij live wel te overtuigen. Dat soort zaken kunnen soms raar lopen.
Met serieuze concurrentie zou het kunnen dat Destitution niet opgevallen was. Dat is een voordeel dat deze Groningers hebben. Wie weet kunnen ze nog wat losmaken onder de jeugd, want ondanks de kritiek is dit wel een van de beste nieuwe thrash metalplaten die ik in tijden gehoord heb. Eerlijk is eerlijk, ik hoor ook erg veel goede dingen. Er hangt een duidelijke … And Justice For Allsfeer aan deze plaat. Nu nog werken aan pakkende songs en de zang en Destitution kan hopelijk nog wat grote stappen maken.
Tracklist:
1. Mr. Greedy
2. Alcathrash
3. Criticize
4. Rhythm of Horses
5. Western Civilization
6. Vigilante
7. Guilty Until Proven Innocent
8. Affinity
9. Screenplay
10. Beware The Fury Of The Patient Man

Score: 75 / 100

Reviewer: Ruud
Toegevoegd: 10 juli 2014
Meer Destitution:
Destitution - Beware The Fury Of The Patient Man
Reactie van Ronald op 10-07-2014 om 19:04u
Score: 90 / 100
Qua beschrijving van de muziek en de invloeden kan ik wel in vinden, dat de nummers niet altijd kop en staart hebben begrijp ik niet. Ook dat de zanger (Emiel ipv Tristan btw) irritant klinkt, gaat er bij mij helemaal niet in.
Ik vind dit iig een regelrechte kraker, ik heb in tijden niet zo'n goeie techno-speed/thrashcd gehoord, voor mij minstens 90 punten.
Maar ja, alles is smaak he ?!
Destitution - Beware The Fury Of The Patient Man
Reactie van Metalfuel op 10-07-2014 om 19:14u

Ik heb via hun site een aantal nummers beluisterd, klinkt prima.

Nu alleen even op vinyl uitbrengen :)
Destitution - Beware The Fury Of The Patient Man
Reactie van Kees op 11-07-2014 om 15:36u

Wanneer wordt er weer opgetreden in Groningen. Ik heb de band daar ooit eens in Simplon en op het Rode Oortjesfestival in het Platformtheater gezien. Smaakte naar meer!