Destitution - The Human Error EP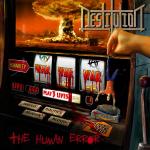 In de afgelopen jaren hebben we veel thrash metal voorbij zien komen. Grote bands, kleine bands, lokaal of internationaal. Op enkele erg leuke bands na, komen de beste groepen wat mij betreft uit de lage landen. Met veel plezier heb ik hier werkjes mogen reviewen van Maniac Forces, Paramite, Prematory en T.C.F. Recentelijk heb ik bands als Evil Invaders en Hammerhead puike optredens zien weggeven en het houdt maar niet op! Het volgende bandje komt uit Groningen en gaat schuil onder de naam Destitution.
Het lijkt er op dat men vooral in Nederland en België weet hoe je een goede pot oldskool thrash metal moet spelen. Veel buitenlandse acts regelen wel een tekening van Ed Repka voor de cover van hun plaat, maar krijsen en blasten vervolgens het schijfje vol. Destitution pakt gelukkig de zaken juist aan en leveren hun metal rauw maar oprecht af. De muziek doet daarom wél denken aan de betere thrash metalacts van eind jaren tachtig. Bovendien zonder daarbij direct een specifieke band te kopiëren. Alsof het de gewoonste zaak van de wereld is, schudden de heren gave tempowisselingen, gitaarsolo's en melodieën uit de mouw. Destitution doet dat lekker op hun eigen manier en dat levert zowaar nog iets als een eigen geluid op. Belangrijker is dat de songs leuk in elkaar steken en goed afwisselen. Het schijfje verveelt na verschillende luisterbeurten nog steeds niet en daarbij is de EP in een mum van tijd weer afgelopen. Het zijn allemaal signalen die de (hoge) kwaliteit van The Human Error EP bevestigen.
Destitution levert voor een allereerste EP echt heel leuk werk af. Het zijn dan wel maar drie tracks, maar de overtuiging straalt ervan af. Hoewel het materiaal voor verbetering vatbaar is, mag het schijfje er absoluut wezen. Bovendien prijkt er een coole prent op de voorkant. Als we kijken naar het totaalplaatje, dan mogen we rustig concluderen dat Destitution best trots mag zijn op het resultaat. Inmiddels hebben deze Grunningers laten weten begonnen te zijn aan de voorbereidingen van een volwaardige plaat die in het najaar opgenomen gaat worden. Wij zijn in elk geval erg benieuwd naar de verrassing die Destitution voor ons in petto heeft.
Tracklist:
1. Radiation
2. Global Content
3. Genesis

Reviewer: Ruud
Toegevoegd: 1 april 2013
Meer Destitution:
Destitution - The Human Error EP
Reactie van Ronald op 02-04-2013 om 12:16u
Score: 100 / 100
Ik volg deze mannen al even en dit schijfje wil ik wel heel graag zsm hebben !!
Toppers in wording !!!