Sacred Steel - The Bloodshed Summoning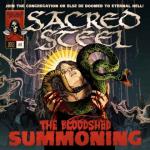 Sacred Steel staat altijd garant voor kwaliteit. De Duitse vaandeldragers van de true metalgedachte stellen nooit teleur. Weliswaar is zanger Gerrit P. Mutz vaak onderwerp van discussie, maar het is niet te ontkennen dat het metalhart op de juiste plaats zit. Het met zeer fraai comic-artwork opgesierde
The Bloodshed Summoning
verandert daar weinig aan, al is er muzikaal wel het nodige verschoven.
Het is een vreemde gewaarwording om een band die doorgaans vrij simpele muziek speelt zo boven zichzelf uit te horen stijgen. Technische thrashriffs, Forbidden-achtige melodieën en (eindelijk) goede gitaarsolo's. Het zijn verse elementen die om wat gewenning vragen. Eenmaal bezonken, ontpopt zich misschien wel de beste plaat van het Duitse gezelschap. Weg zijn de langdradige doomtempo's van Carnage Victory. Sacred Steel wil voorwaarts en doet dat bijzonder sterk.
De band schrijft nog altijd bijzonder catchy nummers. Noem het de weg van de minste weerstand of slim, maar deze muzikanten begrijpen wat een goed metalnummer nodig heeft. Hooks, riffs en maniakale zang. In de basis zijn die ingrediënten zeker aanwezig, maar de songs op The Bloodshed Summoning hebben wat meer vlees op de botten. Zo wisselt de ritmesectie wat vaker van tempo en laten gitaristen Jonas Khalil en Jens Sonnenberg horen dat ze naast strak ook vernuftige passages tot een goed einde kunnen brengen. Dit nieuwe werkstuk is namelijk verreweg de meest melodieuze schijf tot nu toe. Enerzijds dweept het vijftal met trotse melodieën waar Duitse bands patent op hebben, maar anderzijds doet menig passage aan die ene baai in San Francisco denken.
Dergelijke invloeden maken van nummers als No God / No Religion en The Darkness Of Angels kleine luisteravontuurtjes. En Gerrit? Gerrit doet wat hij altijd doet. Zij het weer wat agressiever. De neurotische uithalen zijn er zeker, maar de zanger bedient zich meer dan ooit van een ruwe thrashstrot met af en toe diepe grunts of fel gekrijs ter afwisseling. Kwalitatief gezien weet hij zijn topprestatie van de tot nog toe drie beste platen Slaughter Prophecy, Iron Blessings en (vooral) Hammer Of Destruction dicht te benaderen en hier en daar te overtreffen.
Tel daarbij op dat de plaat gezegend is met een krachtige sound en je kunt wel nagaan wat een goed begin dit is van het Duitse metaljaar. Sacred Steel klinkt weliswaar technischer, melodieuzer en vlotter dan ooit tevoren, maar koppelt deze frisse impulsen wel aan de ijzersterke songwriting waar de band bekend mee is geworden. The Bloodshed Summoning kost wellicht een luisterbeurtje meer, maar laat vervolgens niet meer los. En dat is toch wat we willen bij échte metal.
Tracklist:
1. Storm Of Fire 1916
2. No God / No Religion
3. When The Siren Calls
4. The Darkness Of Angels
5. The Bloodshed Summoning
6. Under The Banner Of Blasphemy
7. Black Towers
8. Crypts Of The Fallen
9. The Night They Came To Kill
10. Join The Congregation
11. Journey Into Purgatory
12. Doomed To Eternal Hell
13. Perversions Of The Scriptures
14. Unbinding The Chains
15. Dig Up Her Bones (Misfits Cover)

Score: 87 / 100

Reviewer: Jeroen
Toegevoegd: 4 maart 2013
Meer Sacred Steel: