Negligence - Coordination Of Confusion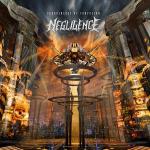 Het ongetwijfeld prachtige Slovenië is een land waar we maar weinig vanaf weten. Goed, ze waren dit jaar op het WK voetbal, waarmee ze landen als Zweden, België (volgende keer doen jullie wel mee verdomme) en Rusland achter zich lieten. Alleen was dat optreden niet echt iets om over naar huis te schrijven. Muzikaal is het ook geen grootmacht. Volgens
Metal Archives
zijn er 165 Sloveense bands geregistreerd. Even ter vergelijking: Nederland heeft er volgens de laatste gegevens 1637.
Des te leuker is het dan om ineens een promo van het Sloveense Negligence voor me te hebben. Deze band bracht in eigen beheer in 2007 al het album Options Of A Trapped Mind. Verschillende mensen in mijn omgeving waren al zeer te spreken over dit debuut en ook in de underground kon de band op redelijk wat lof rekenen. De verwachtingen waren zelfs zo hoog toen Negligence vergeleken werd met grote namen als Forbidden en Dark Angel en daarmee de Bay Area in het algemeen.
Om verder een lang verhaal kort te maken: het debuut wekte de aandacht van Metal Blade Records. Onze Sloveense vrienden tekenden een contract en het directe gevolg is Coordinates Of Confusion, dat nu in de winkels ligt. Een album dat mij het meest doet denken aan de laatste platen van Agent Steel. Negligence heeft zijn best gedaan om elk nummer technisch interessant te maken. Dat heeft in ieder geval als resultaat dat de plaat vol staat met prima riffs, opzwepende drums en mooie gitaarsolo's. De productie zorgt ervoor dat het geheel modern en redelijk agressief klinkt. Alex is daarbij voor de verandering eens geen schreeuwlelijk, maar beschikt over prima stembanden. Wat mij betreft is hij toch een van de betere zangers binnen het retro thrash metalgenre.
Maar of ik nou echt onder de indruk ben.. Nee, dat dan niet. Daarvoor missen de songs een bepaalde klasse die ervoor moeten zorgen dat Coordinates Of Confusion een sterk in plaats van leuk album is. Er zitten te weinig momenten in die je doen opveren om een goed potje te headbangen en er zijn nauwelijks refreinen die lekker mee te zingen zijn. De basis is uitstekend, maar de bekleding is wat armzalig.
Nu heb ik wel goede hoop voor deze jonge band. Het is niet voor niets dat ze een deal hebben bij een label als Metal Blade. Dat zullen ze op hun derde album dan wel moeten laten zien. Dat ze maar snel eens uit dat kleine, onbekende Slovenië komen voor een Europese tour.
Tracklist:
1. Mind Decay
2. Screaming Fear
3. Addicted To Aggression
4. Disharmony
5. The Way To...
6. Insane Asylum
7. The Q Box
8. Sickened
9. Shark Attack
10. Coordinates Of Confusion

Score: 75 / 100

Reviewer: Ruud
Toegevoegd: 18 oktober 2010
Koop dit album in
Meer Negligence:
Negligence - Coordination Of Confusion
Reactie van Bastiaan op 18-10-2010 om 17:09u
Score: 70 / 100
Kan me er helemaal in vinden. :)