Sahara Dust - Cry For The Moon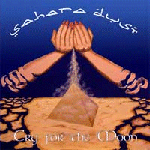 Sahara Dust, de nieuwe band van voormalig After Forever gitarist Mark Jansen. In Nederland zijn de ogen en oren natuurlijk erg op hem gericht, want wat voor kant gaat zijn nieuwe band uit? Ligt het in het straatje van After Forever, of komt hij met iets totaal anders? Toen de eerste bezettingen van Sahara Dust bekend waren was het eigenlijk wel duidelijk dat het waarschijnlijk de ingeslagen weg van After Forever voortzette, want zo maakte ex-Trail Of Tears zangeres Helena Iren Michaelsen deel uit van de band. Zij besloot nog voordat er iets opgenomen was de band te verlaten, en is vervangen door Simone Simons.
De eerste demo bevat twee songs, Cry For The Moon en Illusive Consensus. De vergelijking met After Forever kan gewoon niet wegblijven, want de muziek ligt namelijk erg in het verlengde van die band. De nummers bevatten dezelfde bombastische elementen. Opener Cry For The Moon is een nummer met aardig wat tempowisselingen. Een traag begin, dan weer een snelle passage, waarna weer een langzamer stuk volgt. Illusive Consensus is een meer up-tempo nummer. De zang wisselt tussen de sopraanzang van Simone Simons en de grunts en screams van Mark Jansen en gitarist Ad Sluijter, en af en toe ondersteund door een koor. Simons zang past goed bij de nummers, al is wel te horen dat ze nog niet zo ervaren is als haar collega's van onder andere Trail Of Tears en After Forever, maar goed dat komt nog wel. De overige muzikanten volstaan hun vak zeker wel. Voor een demo is de productie ook niet slecht, al is het geluid soms wat aan de magere kant, voornamelijk in het gitaar- en drumgeluid. De strijkers (die waarschijnlijk uit de keyboards komen) zorgen voor het klassieke element, en klinken erg goed.
After Forever fans weten het natuurlijk al: ze hebben iets om naar uit te kijken, want de band is momenteel bezig aan een volledig album. Hou je niet van After Forever dan denk ik dat Sahara Dust je ook niet zo zal liggen.
Reviewer: Tonnie
Toegevoegd: 12 februari 2003
Meer Sahara Dust:
Sahara Dust - Cry For The Moon
Reactie van Wolfgard op 12-02-2003 om 14:48u
Score: 67 / 100
Als groot After forever fan..tja het is een aardige demo maar niet meer dan dat.. spuuglelijk hoesje en de vrouwenzang is ook maar wat basic.. Maar die krijs van Mark heb ik wel weer ff gemist zeg.. Muzikaal simpeltjes..Vocaal Mark: juist! Simone: degelijk.. Productioneel: minder