Beowülf - Westminster & 5th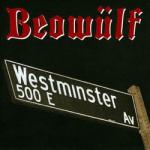 Venice Beach ligt in L.A. en is bekend voor zijn grote boulevards en zijn stranden. De naam verwijst naar de vele kanalen die doen denken aan het Italiaanse stadje en één van zijn bekendste inwoners is Julia Roberts. Wat belangrijk is, is dat The Doors hier zijn opgericht én dat in de 80's de lekkere crossover van vrolijke skatepunk, hardcore en thrash leuke bands als Suicidal Tendencies, Excel en Beowülf heeft voortgebracht.
Deze laatste band was al wat jaartjes dood toen I Scream Records in 2004 de eerste twee elpees op één cd opnieuw uitbracht met daarop alvast één nieuwe song. En nu wat jaartjes later krijgen we tot onze verbazing een nieuwe cd in de bus met daarop maar liefst zestien nieuwe songs. En wat blijkt? Westminster & 5th is de zomerplaat van 2007! De heren spelen nog steeds crossover, maar nu met een gelikte productie en de uitvoering is heel erg ontspannen. De liedjes zijn erg verslavend en wekken een gevoel van vrijheid en blijheid op. En van autoracen, naakte vrouwen en drugs dealen in the neighbourhood.
Wat is er slecht aan dit album? Eigenlijk niets. Misschien is het wel gedateerd en raar om deze oude jongeren dit soort muziek te horen spelen. Maar laat een Europese tour maar komen! En dan liefst met ST én Excel. Met enkel concerten op Europese stranden. Pff..deze plaat laat me dromen. Mooie zaak.
Tracklist:
1. NASCAR Fan
2. Soaked
3. Tilt
4. Mission
5. Stoney Otis
6. Ghetto Billy
7. The Splendor
8. Gina Lynne
9. Got An Itch?
10. Shall Arise
11. Tick, Tick, Tick
12. Rough Night (Rough Life)
13. Hitting On Hard Times
14. Is What It Is
15. The Auction
16. Westminster & 5th

Score: 81 / 100

Reviewer: Kristof
Toegevoegd: 21 juli 2007
Meer Beowülf: