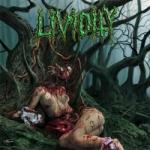 Vrouwenlijken, verkrachtingen, martelingen en brute moorden, de wereld van brutal USDM is doorgaans kleurrijk, geurrijk en inventief. Wat "het zwakke geslacht" reeds heeft moeten ondergaan, daar raken we niet over uitgepraat. Vrouwenorganisaties doen er daarom ook goed aan om deze vorm van muzikaal vermaak te mijden of het pest is, ten behoeve van de vrede en rust op onze lieve groene aarde.
Maar ondertussen blijft Lividity de vrouwonvriendelijke kar jaar in, jaar uit, eeuw uit, eeuw in, maar voort trekken. Niet altijd even kwaliteitsvol, want deze hoeders van de Amerikaanse brute death/grind vergeten nog wel eens dat goede muziek niet alleen uit gewelddadige teksten en een paar lompe akkoorden bestaat, maar goed, over smaak valt er niet te twisten, dus daar gaan we ook niet aan beginnen. Maar waar nu wel een begin aan gemaakt kan worden, is het informatieve deel van deze review, want begin dit jaar heeft Lividity ons maar weer eens een verse portie pornohorror toegeworpen.
Used, Abused, And Left For Dead, dat zegt genoeg, evenals de niets verhullende cover van deze muzikale "Reportage", maar dan door de dader zelf gepresenteerd. Pepijn Bierenbroodspot zit dus even op de bank.
Maar Lividity viert hoogtij. En ik ben ook niet ontevreden, want na een hele reeks zwaar middelmatige tot redelijk slechte platen komt Lividity nu met een album waar op z`n minst over nagedacht lijkt te zijn, in muzikale zin.
Nog steeds hebben we te maken met uitermate zwaar en ontoegankelijk metaal, dat grind-achtige trekken vertoont. Diepgang is overbodig, de muziek vertegenwoordigt nog altijd de verbale kant van het verhaal (en de evaluatie daarvan acht ik na de intro van deze review redelijk overbodig), de samples zijn ook wederom van de partij, dus tot dusver is er niks nieuws gebeurd. Maar wat wel opvalt is dat de productie deze keer behoorlijk is aangedikt en de gespeelde nummers toch een betere structuur hebben dan voorheen. Het massale gebulder maakt langzaam maar zeker plaats voor degelijk gestructureerde nummers die in combinatie met een gezonde lompe sound en een daarop aansluitende afwerking deze keer er best mogen zijn. Een hoogvlieger zal Lividity met de huidige aanpak van ranzige teksten en brute maar inhoudelijk karige muziek nooit worden, maar binnen eigen grenzen boekt de band zowaar vooruitgangen, dus wilt u zich een goede keer vergrijpen aan een aardige BDM-plaat, kunt u Used, Abused And Left For Dead gerust een ferme slinger geven.
"Rip off your arms, then your legs…Lalala…".
Tracklist:
1. Raped For Rent
2. Gore Epitomite
3. Seven19
4. Deviant Pleasures
5. The Cumming Of The Trilogy (Pussy Lover Pt. 3)
6. Exhibition Of Carnage
7. Used, Abused And Left For Dead
8. Hero Of Dementia
9. No Time For Lube
10. Stench Of Virginity (Sonic Version)
11. The Urge To Splurge
12. Bound In Skin
13. Phallic Beat Down