The Black Heart Death Cult - The Black Heart Death Cult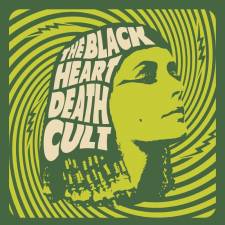 In bijna tachtig jaar rockmuziek is eigenlijk alles al geprobeerd en gedaan. Sporadisch komt er nog een band voorbij die nog echt vernieuwend en fris voor de dag komt. Ook het Australische The Black Heart Death Cult doet in beginsel geen revolutionaire dingen. Maar de sound van de in 2013 door frontman Sasha L Smith opgerichte band is op zijn minst interessant te noemen. De muziek van The Black Heart Death Cult is enerzijds stevig geworteld in de psychedelische rock van de jaren zestig. Anderzijds heeft Smith rondom deze sixties-psychbasis een flinke muur van geluid neergezet.
Wie dus een leuk, lichtvoetig psychplaatje verwacht, komt bedrogen uit. The Black Heart Death Cult heeft een 'hippie en trippy'-gevoel, maar ook een duidelijk dreigend randje. De sitar en fluit in Setting Sun en She's A Believer worden dan ook vergezeld van lagen fuzzy en distorted gitaarpartijen. Door het gebruik van gitaar- en zang-overdubs krijgen de songs een flinke gelaagdheid. The Black Heart Death Cult creëert hierdoor een behoorlijk heavy geluid.
Het dromerige karakter van de songs, in combinatie met het distorted, gelaagde gitaargeluid, doet - vooral op kant B - regelmatig denken aan de shoegaze-pioniers My Bloody Valentine. Alleen hangt Sasha L Smiths stemgeluid meer naar Britpop. Alsof het met de diversiteit nog niet goed zat, gooien de Australiërs er hier en daar ook nog wat folk- en postrock-elementen tegenaan.
The Black Heart Death Club is een erg leuke plaat. Uiteraard moet je wat kunnen met de genoemde genres. Niet alle songs zijn een schot in de roos, maar puur op basis van The Black Heart Death Clubs interessante sound is het beluisteren van dit album zeker de moeite waard.
Tracklist:
1. Setting Sun
2. She's A Believer
3. Black Rainbow
4. Seven Gods
5. Rainbow Machine
6. The Magic Lamp
7. Davidian Dream Beam
8. Aloha From Hell
9. We Love You
Score: 80 / 100

Reviewer: Hugo
Toegevoegd: 12 maart 2019
Meer The Black Heart Death Cult: