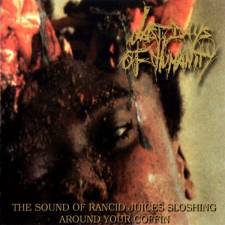 Binnenkort verschijnt
Curby, Twenty Years Of Obscene Extremity
. Dat is een film over de twintigste editie van Obscene Extreme en oprichter Miroslav 'Čurby' Urbanec. Twee decennia lang organiseert hij jaarlijks een festival. In eerste instantie in Trutnov, sinds 2009 in Svojšice. Als je op YouTube kijkt, zie je al snel beelden van de shows van Nederlandse acts, zoals Rompeprop en Last Days Of Humanity.
Laatstgenoemde is dertig jaar geleden opgericht door Erwin de Wit en Hans Smits, die elkaar destijds regelmatig ontmoeten in Soos Plock. In dat ontmoetingscentrum te Volkel zien ze onder andere Dreft en Agathocles optreden. De twee jongens raken geďnspireerd. Niet alleen door deze twee Belgische bands, maar ook door Fear Of God, Napalm Death, Sore Throat, Anal Cunt en 7 Minutes Of Nausea. Op 30 december 1989 is het eerste 'optreden' van LDOH als project een feit. Alleen met Erwin en Hans, die beiden schreeuwen. De pitch shifter, bestemd voor de gitaar, vervormt het geluid tot het bekende gore-karakter.
In 1990 sluiten meer bandleden zich aan en er wordt opgetreden, maar het duurt tot 1992 voordat de eerste, naar zichzelf vernoemde demo een feit is. Daarop is vooral experimentele noise te horen met een donker en spookachtig karakter. Een jaar later verschijnt de tweede demo, getiteld Human Atrocity. Daarop is een ontwikkeling naar gestructureerdere nummers waar te nemen. In 1996 duiken de heren de studio in, maar na één dag hebben ze slechts ongeveer twaalf minuten aan albumwaardig materiaal opgenomen. Het platenlabel is daar niet mee tevreden en stelt een ultimatum: binnen vierentwintig uur met nog eens achttien minuten aan muziek komen, of het album zou niet uitkomen. Daarop besluit de groep in zee te gaan met een ander label: Bones Brigade.
Beide stijlen van de demo's komen terug op het debuutalbum The Sound Of Rancid Juices Sloshing Around Your Coffin. Dat de band door Agathocles is beďnvloed, blijkt uit Septic Convulsion en Born To Murder The World, dat ook direct de vervormde vocalen laat horen. Necrotic Eruption en Entangled In Septic Gore volgen hetzelfde recept, al bevat eerstgenoemde halverwege een trager deel. Het zijn alle drie korte tracks van ongeveer een minuut, waarin de metalriffs goed doorkomen. Noise hoor je terug in Cannibalistic Remains, dat gedeeltelijk een bijna ondefinieerbare brei herrie is. Hetzelfde geldt voor The Smell Of The Dead, Submassive Obliteration, het titelnummer en Liquidized Disgorgement. De twee laatstgenoemde duren slechts vijftien seconden.
Er zijn ook langere tracks, zoals Slithering Limbs, Bloodsplattered Chainsawslaughter en Hacked Into Red Mush, waaruit blijkt dat behalve grindcore death metal een inspiratiebron is. Laatstgenoemde heeft wel iets van het begin van Infernal Sights Of A Bloody Dawn (Morbid Rites) van God Dethroned. Diverse stijlen passeren de revue, zoals hardcore in Putrid Mass Of Burnt Excrement en doom/death in Consumed In Gore, dat net als een aantal andere tracks fragmenten uit een horrorfilm bevat. Drowned In Septic Guts bevat zelfs cleane gitaarpartijen, maar net als in veel andere songs klinken de blastbeats al snel, zo ook in Malignant Haemorhage, met het bekende hoempapa-ritme. Pro-Rectal Fermentation bevat een afgeleide van dat ritme. Deze track bevat interessante accenten op de snaredrum in de blastsecties.
Zo gebeurt er van alles op deze eerste full-length van een grind/noiseband die er al vroeg bij was. Het is binnen de discografie de release met de meeste afwisseling. Na The Sound Of Rancid Juices Sloshing Around Your Coffin werd het alleen maar extremer en smeriger, waarbij Hymns Of Indigestible Suppuration uit 2000 vaak als favoriet wordt genoemd. Hoe invloedrijk het gezelschap is (geweest), blijkt uit het feit dat er in 2009 een verzamelalbum op de markt kwam met de titel Tribute To Last Days Of Humanity. Hoewel er na het zeer extreme, razendsnelle Putrefaction in Progress uit 2006 (de St. Anger van de goregrind/noise vanwege de snaresound) geen full-length meer is verschenen, komen er af en toe nog splitreleases uit. De groep is nog steeds actief en bestaat momenteel officieel slechts uit Rogier Kuzee en Hans Smits. We vergeten nog iets te vermelden; je moet het debuutalbum tot het einde beluisteren, anders mis je de cover van Nothing Else Matters.
Tracklist:
1. Born To Murder The World
2. Necrotic Eruption
3. Entangled In Septic Gore
4. Slithered Limbs
5. Cannibalistic Remains
6. Hacked Into Red Mush
7. Putrid Mass Of Burnt Excrement
8. The Smell Of The Dead
9. Rancid Cottered Rectum
10. Bloodsplattered Chainsawslaughter
11. Submassive Obliteration
12. Septic Convulsion
13. The Sound Of Rancid Juices Sloshing Around Your Coffin
14. Liquidized Disgorgement
15. Putrying Immortality
16. Carnal Tumor
17. Consumed In Gore
18. Drowned In Septic Guts
19. Cadaver Breath
20. Excremental Carnage
21. Malignant Haemorhage
22. Mucupurulent Fleshfeast
23. Pro-Rectal Fermentation
24. A Reeking Pile Of Septic Brainfluid
25. Disembowelment Of Scattered Gastric Pieces
26. Festering Fungus Infection 27. Nothing Else Matters (hidden track - Metallica-cover)