Distillator / Space Chaser - Split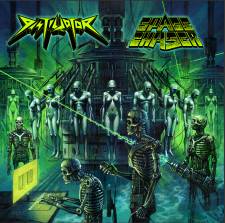 Het gaat Distillator voor de wind. Het tweede album Summoning The Malicious werd vorig jaar goed ontvangen, de Tukkers waren recent in de nacht te horen op 3FM en ze gingen begin dit jaar met plaatsgenoot Pestilence mee op tournee door Europa. Space Chaser uit Berlijn gooit vooral hoge ogen in eigen land, zeker na het verschijnen van het tweede album Dead Sun Rising (2016). De beide thrashmetalbands slaan de handen ineen en brengen een split uit via This Charming Man Records (Space Chaser, Antipeewee), met van beide bands vier nieuwe nummers en een cover.
Zowel Distillator als Space Chaser hebben al twee tracks van het album openbaar gemaakt. Swarm Intelligence van Distillator is een sterke track. Perceiving Presence, op het album ingeleid door het instrumentale Overure, zou een sterker nummer zijn als het hier en daar ingekort zou worden. Het staccato gezongen refreinen met een lekker basloopje klinkt prima, maar door de herhaling gaat de charme een beetje verloren na meerdere luisterbeurten. Dat Distillator wat meer afwisseling in de nummers zoekt, wordt vooral duidelijk in Gates Of Autonomy. Verder ben ik vooral blij dat de galm in de zang op het album Summoning The Malicious is geschrapt.
Na de uitstekende Slayer-cover Black Magic neemt Space Chaser het stokje over. De Duitsers zijn vooral geïnspireerd door de Bay Area-stijl van Exodus en Overkill. De band doet mij denken aan het humoristische imago van Helloween in de jaren tachtig. Dat is niet de enige overeenkomst, want de sterkste troef van Space Chaser is de zang van Siegfried Rudzynski. Zijn stem doet in de refreinen wel denken aan die van Michael Kiske (en Bruce Dickinson). Waves is een uitstekend visitekaartje voor wie de band nog niet kent en datzelfde geldt voor Virus, dat op de plaat fraai wordt ingeleid met Intro. Met Tied Down laten de mannen van Space Chaser horen dat ook zij het tempo flink kunnen opvoeren en The Adversary is een uitstekende afluister.
Beide bands laten de eigen sterke punten goed naar voren komen op deze schijf. Distillator scoort goed als het gaat om energieke, technische tracks boordevol razendsnelle riffs, lekkere basloopjes en strak slagwerk. De thrash van Space Chaser is eveneens energiek, maar die nummers zitten vooral goed in elkaar en Siegfried is een geweldige zanger. Voor de meeste lezers zal deze split vooral een leuke kennismaking zijn met Space Chaser, want nieuw werk van Distillator wordt toch wel met open armen ontvangen.
De releaseshows zijn op 18 mei in Metropool (Hengelo) en 19 mei in Podium (Hoogeveen).
Tracklist:
Distillator
1. Overture
2. Perceiving Presence
3. Swarm Intelligence
4. Gates Of Autonomy
5. Black Magic
Space Chaser
6. Intro
7. Virus
8. Waves
9. Tied Down
10. The Adversary
Score: 83 / 100

Reviewer: Marc
Toegevoegd: 17 mei 2018
Meer Distillator / Space Chaser: