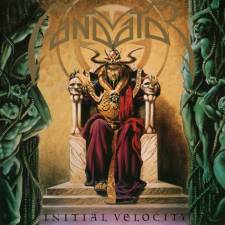 Eerder dit jaar werd het songmateriaal van Mysto Dysto opnieuw uitgebracht. Mysto Dysto is de voorloper van Mandator. De naamsverandering in de jaren tachtig was het gevolg van het tekenen van een platencontract. De eigenaar van Disaster Records, het label dat materiaal van onder meer Exumer en Angel Dust heeft uitgebracht, vond de oude bandnaam maar niets. Hij vond deze te veel lijken op Mister Disco en dus werd het Mandator. Aangezien het dertig jaar geleden is dat het debuut
Initial Velocity
het levenslicht zag, is het een mooi moment om eens terug te blikken op die bijzondere plaat.
Bijzonder, vanwege de eigenzinnige, kenmerkende sound van de vocalen en de muziek die door Slayer, Metallica, Agent Steel, Vendetta, Megadeth en Kreator is beïnvloed. Mandator speelt een mix van thrash, speed en heavy metal. Daaroverheen klinken de geschifte thrashvocalen (tijdens de snelle en agressieve tracks) en de melodieuze zang van Peter Meijering (tijdens de rustigere momenten, zoals in de fraaie semi-ballad I Will Be Your Last). Zijn zangstem staat net als de ritmesectie prominent in de mix. Helaas is het gitaargeluid wat weggedrukt, maar de baspartijen zijn goed te horen, zoals in Power Of The Law, waarin Meijering zijn bereik laat horen. Het gitaarwerk in die track moet het overigens afleggen tegen de versie die op The Rules Have Been Disturbed (1986) van Mysto Dysto staat. Dat komt met name vanwege de genoemde accenten in de mix.
Black Rose is na het agressieve Attila beslist een hoogtepunt. Het nummer begint met Metallica-achtige riffs, waarna het gitaarwerk aan Iron Maiden doet denken. De zeer fraaie tweede helft van deze track bevat een rustiger deel met getokkel, een basmelodie en een lange solo. Een tweede highlight is Jack Boots & Leather Caps; een ritmisch sterke, verhalende heavymetaltrack met memorabele leads en zanglijnen en een verrassende move met een solo zonder distortion. De nummers daarna halen dat niveau niet meer, maar stellen evenmin teleur. De afwisseling tussen snelle en galopperende riffs enerzijds en melodieuze secties (harmonieuze leads) anderzijds blijft zeer aangenaam. I Will Be Your Last sluit het album emotioneel en fraai af.
Ondanks de vergelijkingen met andere artiesten zet Mandator hier een eigen sound neer, die weliswaar wat aan de gebrekkige kant is geproduceerd, maar dat zorgt voor een plaat met een uniek karakter. Nummers als Black Rose en Jack Boots & Leather Caps zijn zo sterk dat ze ook met een matige mix de songwritingkwaliteiten prijsgeven.
Sinds medio 2016 is Marcel Verdurmen weer actief om Mandator nieuw leven in te blazen en eind dit jaar gaat de band live spelen, op onder meer Eindhoven Metal Meeting. Tot die tijd is het genieten van de oude platen, met name van het debuut, want opvolger Perfect Progeny heeft beslist zijn momenten, maar legt het toch af tegen zijn voorganger. Oude tijden herleven met de recente ontwikkelingen rond Altar, Mysto Dysto en dus ook Mandator.
Tracklist:
1. Attila
2. Black Rose
3. Faces Of Death
4. Jack Boots & Leather Caps
5. Power Of The Law
6. Evil Dead
7. Posers
8. I Will Be Your Last