Doro
Op 9 april 2004 in Hof Ter Lo, Antwerpen
Een review door Kristof
Foto's door Tonnie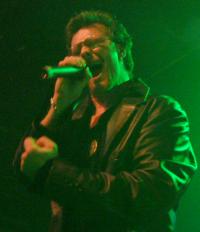 Ik geef het toe: ik was vroeger (en nu stiekem nog steeds) een beetje verliefd op Doro. Deze Duitse zanggodin maakte eerst het mooie weer bij Warlock (hun debuutelpee 'Burning the witches' staat vandaag nog steeds als een huis). Nadat die band uit elkaar ging begon ze aan een vrij sterke solocarrière. Op mijn kamer hangt nog steeds de solo-elpee 'Triumph and agony' aan de muur (met prachtig artwork: een tekening van Doro met sexy kledij aan). Eind vorig jaar vierde Doro haar 20-jarig bestaan als artiest nog met een speciaal concert in haar thuisland. Ze doet nu een kleine mini tournee in Europa met een klassiek orkest. Dit unieke concert in Antwerpen was het enige dat werd gegeven in de Benelux.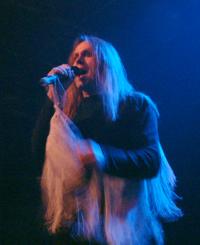 Hof ter Loo zat vrij goed vol en het concert begon met enkele covers die door gasten werden gebracht. Een onbekende maar uitstekende zanger bracht samen met het orkest 'Hells bells' van AC/DC en 'Here I go again' van Whitesnake. Daarna was het aan Ozzmosis: een coverzanger die niet alleen zingt zoals Ozzy Osbourne, maar er ook uitziet als Ozzy en dezelfde podiumprestatie als Ozzy heeft. Geweldige man! 'Ozzy' bracht het geweldige 'Mr. Crowley' en de Black Sabbath klassieker 'Paranoid'.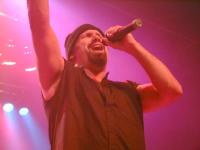 Hierna was voormalig Iron Maiden zanger Blaze Bayley aan de beurt. Blaze bracht het Iron Maiden nummer 'Man on the edge' en een nieuw nummer, 'Life And Death'. Erg vermakelijk. Blaze zijn podiumprestatie was volledig in orde en de laatste jaren is hij vocaal erg gegroeid.
Toen pas was het eindelijk tijd voor Doro. Ze begon vrij hard met onder andere 'Rule the ruins'. Daarna volgde enkele saaiere ballades uit haar solocarrière. Alleen het altijd geweldige 'Für immer' kon me echt boeien. Daarna volgde enkele snellere nummers (onder andere 'All we are' en voor je het wist sloten de doeken van Hof ter Loo en gingen de lichten terug aan.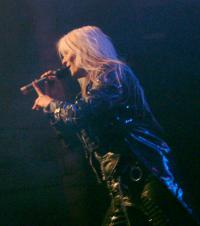 Uiteraard kwamen er nog een rits toegiften: de prachtige, sublieme versie van de Iron Maiden klassieker 'Fear of the dark' (duet Blaze en Doro), de John Miles hit 'Music' (je weet wel, dat nummer dat ze elk jaar bij The night of the Proms spelen!), onze 'Ozzy' kwam ook nog terug voor het gevoelige 'Goodbye to romance' en het geheel werd afgesloten met een lange versie van wederom 'All we are' dat door alle gasten maar óók door alle fans werd meegezongen. Een magisch avond dat voor mij herhaalt zal worden op Wacken Open Air (waar tevens een heuse Warlock-reünie zal gegeven worden!)
Setlist:
1. Hell's Bells
2. Here I go again
3. Mr. Crowley
4. Paranoid
5. Man on the edge
6. Life & Death
7. The unforgiven
8. I rule the ruins
9. Metal Tango
10. White wedding
11. Legends never die
12. Let love rain on me
13. 1000 mal gelebt
14. Last day of my life
15. Bad Blood
16. Burn it up
17. Für immer
18. Undying
19. Always live to win
20. All we are
Toegiften:
21. Fear of the dark
22. Goodbye to romance
23. Music
24. All we are