Mentation - Circle of Perpetual Occulation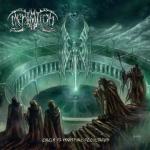 Voor me ligt de debuut demo van het Nederlandse
Mentation
. Een band die qua muziek geworteld zit in de melodieuze death metal.
De band is bezig sinds het jaar 2000 en dit is dus het eerste wapenfeit dat men los laat op de niets vermoedende mensheid.
Deze cd-demo bevat 4 tracks die samen goed zijn voor 25 minuten death metal muziek.
De productie allereerst is zeer redelijk, voor alle instrumenten is genoeg ruimte in het geheel en kenmerkend is het avontuurlijke nogal hard ingemixte basgitaar werk.
Keyboards worden niet gebruikt en de band moet het vooral hebben van melodieuze riffs die de muzikale koers van de band bepalen. Qua zang word er behoorlijk woest op los gekrijst en op bepaalde momenten klinken er ook zware grunts mee op de achtergrond.

De demo opent met het pakkende Fragile. De band lijkt op het eerste gehoor geïnspireerd te zijn door een band als Dissection , maar die genialiteit word nergens behaald. De ritmes liggen lekker in het gehoor en het spel van de bandleden is strak. De productie geeft de muziek een lekker ruwe feel zodat men de band niet kan vergelijken met melodieuze semi-death metal bands als In Flames of Dark Tranquillity.
De muziek bevat een hoop tempowisselingen zodat de verveling niet al te snel toeslaat. Klonk de opener nog meer aan de mid-tempo kant, de daaropvolgende twee nummers ; Suicidal Thoughts en The Perpetual Quest zijn meer hak en stamp nummers waarin ook enkele tragere passages voorkomen. Vooral in laatstgenoemd nummer valt het gitaarwerk positief op binnen het geheel en drummer Ivo weet alle gaten vakkundig dicht te rossen.
De cd wordt afgesloten met het afwisselende Prevaricator waarin sterke riffs langskomen. Origineel is het allemaal niet en soms klinkt het nog ietwat gewoontjes (echte uitschieters zijn nog niet aanwezig) , maar de band kan zeker spelen en dat is het belangrijkst.

Al met al zeker een aardige demo met nog een aantal kleine kinderziektes. Potentie schuilt er zeker in en ik ben ook benieuwd hoe lang het zal duren voordat deze band zal worden opgepikt door een label.
Het artwork is alvast schitterend (verzorgd door Kris Verwimp) en tekstueel is men ook niet de zoveelste bloody gore band.
Mensen die de demo willen hebben , kunnen hem bestellen voor 7,50 euro door een mailtje te sturen naar Info@mentation.nl. Meer informatie is de vinden op onderstaande website. Een zeer aardige demo.

Tracklist
1. Fragile
2. Suicidal Thoughts
3. The Perpetual Quest
4. Prevaricator

Score: 75 / 100

Reviewer: Jeroen
Toegevoegd: 25 februari 2004