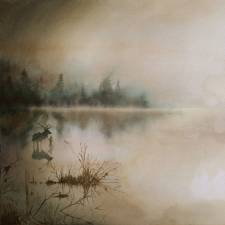 Als je af zou gaan op de reacties op de Facebook-pagina van Sólstafir, zou je
Berdreyminn
geen kans geven. 'Fans' spreken schande van het vertrek van drummer Guðmundur 'Gummi' Óli Pálmason, de prestaties van zijn opvolger Hallgrímur 'Grimsi' Jón Hallgrímsson en de vrijgegeven eightiestrack
Ísafold
. Als je kritisch gaat luisteren naar de zesde full-length dan valt er inderdaad wel wat over op te merken, maar behalve verbeterpunten zijn er ook veel positieve zaken te melden.
Bijvoorbeeld over het prachtige Hula, dat je rustgevend mee laat varen op een eenvoudige pianomelodie en een blazerssectie, maar waarin tevens op organische wijze een koor zorgt voor een epische touch. Of over Dýrafjörður, een schitterend nummer vol dramatiek en met mooie overgangen, waarin klassieke muziek uitstekend is geïntegreerd. En dan is er nog afsluiter Bláfjall, met Fields Of The Nephilim-vibes en een kerkorgel. Openingstrack Silfur-Refur dat in de riffsectie doet denken aan Bodies van Smashing Pumpkins en in de ritmesectie even later aan Coldplays Politik, komt nog het meest in de buurt van Ótta.
Afwisseling is er dus voldoende, al moet gezegd worden dat de opbouw van de nummers in meerdere gevallen hetzelfde is en dat tegen zich kan werken voor een groep luisteraars. De drumpartijen van Grimsi zijn basic en in eerste instantie weinig opvallend, maar aan bijvoorbeeld het in tempo wisselende Nárós voegt hij toch wel degelijk het nodige toe en zo zijn er heel veel voorbeelden. Slechts in Ambátt zijn de drums net wat te nadrukkelijk aanwezig. Verder varieert hij goed en gebruikt hij voor meerdere nummers verschillende drums en cymbals.
Veel nummers bevatten een mix van rustige en stevige secties en over stevig gesproken: Aðalbjörn 'Addi' Tryggvason zet zijn screams in op momenten die zich daarvoor lenen. Hij zingt met meer bezieling dan ooit tevoren. Dat levert een emotionele voordracht op die in zijn uitvoering op een paar momenten imperfect is (timing, zuiverheid), maar wel past bij het rauwe karakter. Ondanks dat op de rustige momenten de muziek gepolijst klinkt, staan de gitaarpartijen zodanig in de mix dat ze in de stevige passages een ruw randje hebben.
Berdreyminn zal bij veel Sólstafir-fans niet het favoriete album uit de discografie van de IJslanders zijn. Het is echter een sfeervolle, ingetogen plaat met een desolaat karakter, die zijn sterke momenten heeft. De muziek is toegankelijk, soms minimalistisch in zijn benadering, maar tevens opbouwend en gelaagd. Juist die tegenstrijdigheid is mooi uitgewerkt en datzelfde geldt voor de toepassing van verschillende stijlen en instrumenten in de composities. Ísafold blijft de enige vreemde eend in de bijt en verder staan er veel aangename tot prima tracks op deze release. Gun deze echter wel de tijd om te groeien.
Tracklisting:
1. Silfur-Refur
2. Ísafold
3. Hula
4. Nárós
5. Hvít Sæng
6. Dýrafjörður
7. Ambátt
8. Bláfjall