Extinction - The Monarch Slaves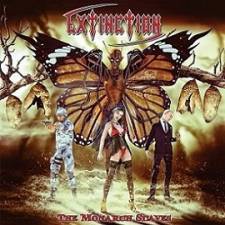 De eerste incarnatie van de thrashband Extinction dateert reeds van 1995. Van die line-up is momenteel alleen nog Danilo Bonuso van de partij. Na een demo in 1996 komt er een jaar later een einde aan de groep vanwege het vertrek van de zanger en een verhuizing. De Italiaanse gitarist pakt in 2014 de draad weer op met bassist Jacopo Farcito en drummer Alberto Scrivano. Jacopo is inmiddels vertrokken. Marco Vicenza is zijn opvolger. Verder bestaat de groep uit zangeres Alice 'Darkpeace' Lospinoso en gitarist Marco 'Hellfire' Campanati.
De formatie uit Turijn speelt naar eigen zeggen een mix van death en thrash metal met progressieve elementen, maar die progressieve elementen komen niet vaak voor. Er zijn weliswaar aardig wat tempowisselingen, maar complex wordt het eigenlijk nergens, of het moet al in Wrong System zijn, waarvan het begin wat hakkelig overkomt. Tegelijk bevat juist dat nummer wel memorabele ideeën. De riffs hebben trouwens vaker raakvlakken met old school heavy metal dan met death metal (Fight For Yourself). Ze vallen vooral terug op de jaren tachtig en negentig. Het tempo ligt voor thrashbegrippen, met uitzondering van de midtempopassages, relatief laag. Sepultura, Metallica, Death, Slayer, Judas Priest, Iron Maiden en Pantera zijn voorname inspiratiebronnen.
De Zuid-Europeanen kunnen een aardig potje spelen, maar potten breken lukt ze nauwelijks. Daarvoor zijn de technische capaciteiten te beperkt en komen er bovendien slechts weinig ideeën aan bod die de luisteraar aan de boxen gekluisterd laat zitten. De productie is helder, maar er zit weinig dynamiek in het geluid. Al met al kabbelt de release wat voort. De cd begint overigens wel aangenaam met The Monarch Slaves. Conspirators start met prima harmonieuze leads en bevat daarna net als een paar riffs die de aandacht op zich vestigen. Ook in Fight For Yourself, dat goed schakelt tussen verschillende stijlen, komen er aangename ideeën aan bod, waaronder een instrumentale sectie met een basloopje die in positieve zin opvalt.
Alice, die in april 2016 bekendheid verwierf met haar deelname aan Italia's Got Talent, heeft vooral een hese thrashstem en zet af en toe grunts in. Ze is net als de ritmesectie onopvallend aanwezig, op een paar refreinen na (Conspirators, Wrong System). Wel verrast ze op het laatst nog met haar cleane vocalen in het afsluitende Under Control. Het is dan ook jammer dat het nummer al snel schakelt naar het standaardtempo, want het begin is beslist aardig. Opmerkelijk is de aanwezigheid van de Nirvana-cover Smells Like Teen Spirit. De geheel eigen thrashdraai die eraan gegeven is, verdient het predicaat inventief, maar zal tegelijkertijd voor gemengde reacties zorgen.
Zowel technisch als productioneel is Extinction erop vooruitgegaan in twintig jaar tijd, maar er is tevens nog een lange weg te gaan. Compositorisch biedt The Monarch Slaves te weinig om positief op te vallen tussen de grote stapel releases. Ondanks dat het geen groeiplaat is, moet gezegd worden dat bepaalde nummers na meerdere luisterbeurten pas inzinken. Voor een hobbyband is het gebodene aardig, maar voor de doorgewinterde thrashliefhebber weinig verheffend. De ideeën heb je veelal elders al gehoord. Het klinkt daardoor gedateerd en deze release zal daardoor internationaal geen stof doen opwaaien.
Tracklist:
1. The Monarch Slaves
2. Conspirators
3. False Preachers
4. Fight For Yourself
5. Wrong System
6. Progress Regress
7. Pain Of Mind
8. Smells Like Teen Spirit (Nirvana-cover)
9. Latency
10. Under Control
Score: 64 / 100

Reviewer: Jeffrey
Toegevoegd: 16 mei 2017
Meer Extinction: