Psychedelic Witchcraft - Magick Rites And Spells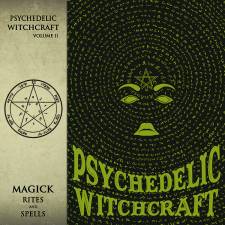 Met een bandnaam als Psychedelic Witchcraft is het niet moeilijk om te raden waar deze Italiaanse band de mosterd vandaan haalt. Het gezelschap uit Florence speelt occulte rock met wat blues-invloeden. Collega Ruud was vorig jaar redelijk positief over het debuutalbum
The Vision
. Amper een jaar na dat album ligt met
Magick Rites And Spells
al een opvolger in de schappen. Het betreft hier eigenlijk geen volledig nieuwe full-length. Voor een deel bestaat het album uit nieuwe tracks, maar ook uit heropgenomen nummers en enkele covers.
Met de wat lome opener Come A Little Closer lijkt de band nog even te moeten warmdraaien, maar bij het funky Godzilla (een cover van Blue Oyster Cult) draait het gezelschap op volle toeren. Vooral het smeuïge gitaarwerk valt hier in positieve zin op. Daarnaast is het zo dat zangeres Virginia Monti over een behoorlijk stemgeluid beschikt. Het is af en toe wat monotoon en bij de hardere uithalen op het randje (Set Me Free), maar met haar enthousiasme en uitstraling weet ze veel te verhullen.
Naast de Blue Oyster Cult-cover valt een andere cover in positieve zin op. Het betreft een verrassende en uitstekende uitvoering van The Dark Lord. Het origineel is van Sam Gopal en stamt uit 1969, met als saillant detail dat niemand minder dan Lemmy Kilmister de vocalen voor zijn rekening nam. De laatste vier nummers op Magick Rites And Spells zijn afkomstig van de ep Black Magic Man. Deze laten een andere kant van Psychedelic Witchcraft horen. Zo zijn Angela en Lying On Iron dromeriger van karakter. Het werkt wonderwel, want juist in deze nummers komt de zang van Monti het best tot zijn recht. Ze heeft hier minder de neiging om zich te overschreeuwen.
Hoewel Psychedelic Witchcraft zeker niet van hetzelfde niveau is als Blues Pills of het Nederlandse DOOL, valt er voor de liefhebbers van stoffige, authentiek klinkende rock met een occult sfeertje genoeg te genieten. En ook al lijkt het genre inmiddels een beetje verzadigd, met Magick Rites And Spells halen liefhebbers van bovengenoemde groepen een fijn plaatje in huis.
Tracklist:
1. Come A Little Closer
2. Godzilla
3. Set Me Free
4. Wicked Dream
5. The Dark Lord
6. Angela
7. Lying On Iron
8. Black Magic Man
9. Slave Of Grief

Score: 75 / 100

Reviewer: Rik
Toegevoegd: 16 april 2017
Meer Psychedelic Witchcraft: