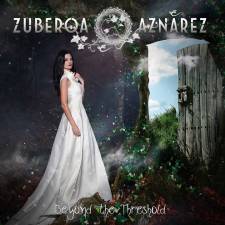 Zuberoa Aznárez is de zangeres van de symfonische metalband Diabulus In Musica. Haar passie voor muziek begon al op jonge leeftijd. Ze groeide op in een muzikaal gezin. Haar moeder is koordirectrice, pianiste en muziekdocente en zegt over haar dochter dat ze eerder kon zingen dan praten. De achtjarige Zuberoa studeerde op de dwarsfluit en begon een paar jaar later met klassieke zang. Ze is tijdelijk jazz-zangeres in een pub en beluistert in haar tienerjaren ook metal. Aznárez is te horen op
Through The Time
(2006) van Dragon Lord. Die band houdt in datzelfde jaar op te bestaan en ze richt samen met haar partner Gorka Elso (die al langer in Dragon Lord speelde) Diabulus In Musica op.
Wie de muziek van Diabulus kent, weet dat er veel invloeden uit de folk- en wereldmuziek in verwerkt zijn. Luister maar eens naar Indigo (afkomstig van Argia, 2014), Bane en Zauria (van Dirge Of The Archons, 2016). Die songs zijn zelfs voor haar solo-album geschreven, maar belandden dus tussen de metaltracks. De rustige klanken bepalen de toon op Zuberoa's solodebuut. Metal kom je in de verste verte niet tegen op Beyond The Threshold. Het is een album dat vooral neo-folk en neo-klassieke muziek bevat. Ontspannen klanken die een spirituele en rustgevende werking hebben.
De lijst instrumenten die Zuberoa zelf in heeft gespeeld, is indrukwekkend. Naast dwarsfluit speelt ze ook tin en low whistle, garrahand (percussie-instrument), djembé, gitaar en Keltische harp. Ze krijgt hulp van Gorka middels pianopartijen en orkestrale arrangementen. Miguel Gortari krijgt credits voor het programmeren van de orkestrale geluiden in een drietal tracks. Om de lijst compleet te maken zijn er vier gastartiesten. Dat zijn violist Daniel Zoco, celliste Paula Moriones, gitarist Adrián Vallejo en contrabassiste Olalla Moriones. Tezamen maken zij er een rijk geheel van. Het echtpaar zelf is verantwoordelijk voor de transparante productie. Slechts voor de mastering heeft Aznárez samengewerkt met Héctor Corcín.
The Threshold is na de instrumentale opener The Guardians Of The Entrance het eerste hoogtepunt. Het is een oudere track waarmee het publiek reeds in 2015 kon kennismaken. De track laat je zweven. Alhoewel de instrumentale begeleiding noemenswaardig is, zijn het hier de vocalen die prominent zijn. Dat is anders in Winter Dawn. Daarin zijn de fluitmelodieën bepalend, terwijl op de achtergrond piano en strijkers een rol spelen. De zang heeft hier een Enya-touch. Een tweede hoogtepunt is Stretched On Your Grave.
In Luna klinkt het harpspel en zijn de teksten voor het eerst in het Baskisch, net als in Uraren Abestia. De overige teksten zijn in het Engels. In het toegankelijke Ephemera laat ze middels verschillende lagen vocalen horen dat ze zowel uit de voeten kan als sopraan, mezzo-sopraan, tenor als bariton. Buitengewoon knap. Soms zijn er raakvlakken met zanglijnen van Diabulus In Musica. Zo herinnert Silver Roots aan Maitagarri.
Beyond The Threshold is een prachtig album vol met rustgevende muziek. Ambient, folk en klassieke klanken ontmoeten elkaar en vormen samen met de hemelschone, hartverwarmende zang van Zuberoa een mooie combinatie. Het album is uitermate geschikt om even te ontsnappen aan de dagelijkse hectiek en jezelf tot rust te laten komen. Eskerrik asko, Zuberoa!
Tracklist:
1. The Guardians of the Entrance
2. The Threshold
3. Winter Dawn
4. Luna
5. Ephemera
6. Lamien Doinua
7. Stretched on your Grave
8. Silver Roots
9. In the Fields
10. Uraren Abestia
11. Stretched On Your Grave (live version)