A Sickness Unto Death - The Great Escape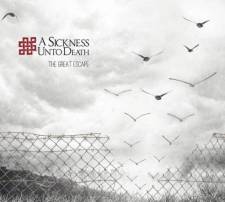 A Sickness Unto Death is een in 2012 opgerichte epicdoomband uit Bremen, die vernoemd is naar het gelijknamige boek van Sřren Kierkegaard uit 1849. Zanger Tim Ziegeler en gitarist Michael Maas zijn de initiators. In 2013 verschijnt de eerste full-length
Despair
. In 2015 is het de beurt aan opvolger
The Great Escape
. Naast Tim en Michael bestaat de line-up uit gitarist Antonio de Yta en drummer Marius Paschen. Antonio is nog niet te horen op de tweede full-length. De inmiddels vertrokken bassist Michael Nowak en gitarist Giordano Bruni wel.
Het vijftal speelt doom en doet dat muzikaal zeer aardig. Meerdere melodieën blijven hangen. Onder de inspiratiebronnen bevinden zich Paradise Lost, Type O Negative, Katatonia en Candlemass. De extreme vocalen van Tim doen aan die van Aaron Stainthorpe (My Dying Bride) denken. Ze nemen in verhouding heel weinig ruimte in ten opzichte van de cleane zang en dat is jammer, want juist de gewone zangstem van Tim zal voor uiteenlopende reacties zorgen. Hij stopt veel beleving in zijn performance, maar zijn wat geknepen vocalen overheersen en zijn wel even wennen, met name als hij kracht zet. Als hij inhoudt, zoals aan het begin van The Uniqueness Of Two (mooie zanglijn net als in Intoxicated) en Judgement, komt zijn stem beter tot zijn recht.
Muzikaal is het solide met hier en daar goede ideeën. Ze zijn niet vernieuwend of wereldschokkend, maar in Intoxicated en het goed opgebouwde, tien minuten durende The Concrete Lake (waar de klagerige vocalen wel passen) zijn ze bevorderend voor het luisterplezier. Laatstgenoemde is een meeslepende uitschieter die over het Karatsjajmeer handelt. Dat is de meest vervuilde plek op aarde. Het radiatieniveau is zo hoog dat een mens binnen een uur eraan overlijdt. Ivan Chertov (Craving) zorgt voor de gesproken tekst in het Russisch.
Andere hoogtepunten zijn Judgement en Purgatory. Opvallend is dat er regelmatig gesproken samples in de tracks verwerkt zijn. Voor een doomrelease is het geluid wel heel strak en soms wat dun. In tegenstelling tot het debuut bevat dit album echte drums, maar het doffe, in de oefenruimte opgenomen snaregeluid zal niet iedereen aanspreken. Zo zijn er toch wel wat kritiekpunten op deze plaat. Veelal zijn het de heavy riffs die de sound bepalen, aangevuld met hier en daar getokkel of een Paradise Lost-achtige lead. Er zijn nauwelijks solo's.
Je kunt wat met The Great Escape of helemaal niets. Er lijkt nauwelijks een middenweg te zijn. Dat heeft vooral te maken met de specifieke zang van Tim die je wel of niet aanspreekt. De melancholische en gevarieerde epic doom is iets te netjes geproduceerd, maar de release bevat anderzijds een paar erg sterke tracks die dit kritiekpunt tijdelijk doen vergeten. Fans van Isole en While Heaven Wept nemen de moeite om A Sickness Unto Death een kans te geven.
Tracklist:
1. The Great Escape
2. Intoxicated
3. The Atonement Ship
4. Lost
5. The Concrete Lake
6. The Uniqueness Of Two
7. Prejudice
8. Judgement
9. Purgatory
10. Remains Of Misery
Score: 67 / 100

Reviewer: Jeffrey
Toegevoegd: 20 februari 2017
Meer A Sickness Unto Death: