Lost Opera - Hidden Sides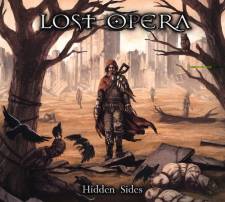 Lost Opera is een symfonische metalband uit Normandië, die zich laat inspireren door onder andere Epica, Myrath, Kamelot en Rammstein. De groep is sinds 2007 in verschillende samenstellingen actief. In 2011 verschijnt
Alchemy Of Quintessence
en vijf jaar later ligt
Hidden Sides
in de winkels.
Na een standaard-intro geven de mannen uit Évreux muzikaal een verzorgd visitekaartje af. Zowel Today I Cry als Follow The Signs bevatten strakke riffs die goed samenvallen met de keyboardmelodieën. Hier en daar zit er een proggy of folky twist in de muziek, maar doorgaans is het songmateriaal toegankelijk. Af en toe komen er metalcore- of Rammsteinriffs (So Wrong) langs. De productie is krachtig en de master van Jacob Hansen scoort een dikke voldoende.
Het gaat echter fout met de vocale bijdrage. De grunts gaan nog wel, maar de theatrale cleane zang is ondermaats. Dat ligt voor een deel aan het feit dat deze een heel duidelijk niet-Engels accent bevat. Dat is in meerdere tracks een storende factor. Zodanig zelfs dat je niet snel geneigd bent om verder te luisteren. Luister maar eens naar May I?. Bovendien duikt de extreme zang soms op in passages waarin deze minder goed past (O.P.S.).
Jammer, want de mix van symfonische klanken en moderne melodeath is verder aangenaam. Goed, de folkmelodie middels fluit in Betrayal ligt meer op de muziek dan dat deze er onderdeel van uitmaakt, maar dat is een uitzondering. Met de ideeën zelf is niet veel mis. Dit blijkt onder meer uit het fijne So Wrong, het aandoenlijke einde van My Silent Hill of de versterkende combinatie van gitaar- en toetsenwerk in The Lonely Owl. De theatrale zang doet helaas ook hier afbreuk aan de compositie. The Weight Of The Cross sluit het album dan wel weer mooi bombastisch af.
Het moge duidelijk zijn dat Hidden Sides slechts voor weinig metalliefhebbers een aangename plaat is. Er ontbreekt een eenheid in de sound. Muzikaal is het zeer behoorlijk, maar de vocalen missen regelmatig de aansluiting. Mocht je geen problemen hebben met theatrale zang met een accent, dan kun je gerust onderstaande videoclip eens bekijken en beluisteren en je verdiepen in het andere songmateriaal en het concept dat aan deze release verbonden is.
Tracklist:
1. The Inquisitor
2. Today I Cry
3. Follow The Signs
4. Rage
5. Betrayal
6. The Lonely Owl
7. The Sinner
8. May I?
9. So Wrong
10. OP.S.
11. My Silent Hill
12. The Weight Of The Cross
Score: 63 / 100

Reviewer: Jeffrey
Toegevoegd: 17 februari 2017
Meer Lost Opera: