Bullcreek - Osschaert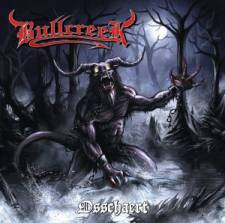 In het uiterste zuidwesten van Nederland, iets boven Heille, slingert de Stier(s)kreek door het landschap van Gemeente Sluis. Om over de kreek te geraken, is er een overgang aangelegd. Er gaan volksverhalen dat dit tot onvrede van de watergeest Ossaart heeft plaatsgevonden. Osschaert (verschillende spellingen mogelijk) is een monster dat verschillende gedaantes aanneemt. Hij springt op je nek en knijpt je keel dicht als je het water over wilt steken. Het beste kon je rustig spreken of zacht zingen, maar hem niet bij zijn naam noemen.
De verhalen vormen de basis voor het concept van Osschaert, het debuutalbum van Bullcreek. De band is vernoemd naar de hierboven genoemde streek in Zeeuws-Vlaanderen en bestaat uit zanger Angelo de Bruijn, bassist Erwin van Dorsselaer, drummer Peter Dees en gitarist Martijn Gazan. Ze zijn of waren betrokken bij Burial, El Niño, Mordancy, Mindlink, en Gotmoor. Het viertal maakt modern geproduceerde, door de jaren negentig geïnspireerde death/doom. Bolt Thrower komt vaak in gedachten op bij het beluisteren van de songs, maar ook fans van Amon Amarth, Benediction en Gorefest vinden hier beslist wat van hun gading. Angelo zet vaak zijn grunts in en wisselt deze in The Serpent's Egg af met screams.
Het akoestische getokkel aan het begin van Woods Of Wiezel zet je in eerste instantie nog op het verkeerde been, maar al snel dienen de (sludgy) heavy riffs zich aan. Deze vormen het hoofdbestanddeel van de muziek. Het gitaargeluid is lekker vol en rauw. De leads en (wah-wah)solo's zorgen voor een melodieus tintje. Er zit voldoende variatie in het tempo en de composities om de release te blijven beluisteren. Zo is Dorset Ooser aanvankelijk zeer traag en creepy (met een passende intro), maar is er een versnelling naar een veel sneller deel. Mede hierdoor is dit een van de nummers die eruit springt.
Andere tracks die in positieve zin opvallen zijn de headbanger Bullhead, het groovy Deliverance en het grimmige, met een memorabele treurmelodie en verrassende cleane zang bekleedde The Monastery. Het heeft een paar jaar langer geduurd dan de bedoeling was voordat deze release het levenslicht zag, maar het eindresultaat mag er wezen. Het geluid is lekker smerig, vet en krachtig en middels de transparante productie is het geheel definieerbaar. Verwacht niets nieuws, maar gewoon een lekkere pot sludgy old school death/doom met een concept uit eigen streek.
Tracklist:
1. Woods Of Wiezel
2. The Serpent's Egg
3. Bullhead
4. Dorset Ooser
5. Osschaert
6. Deliverance
7. The Monestary
Score: 74 / 100

Reviewer: Jeffrey
Toegevoegd: 11 februari 2017
Meer Bullcreek: