Kung Funghi - Kung Funghi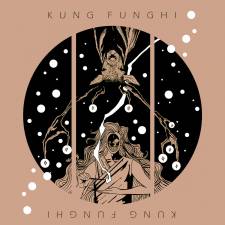 Het jaar 2017 is nog maar net een maand oud, maar kent tot nu toe al meerdere positieve verrassingen. Een daarvan is het Stockholmse Kung Funghi. Deze vijf heren brachten vroeg in januari hun debuut-ep uit. De vijf songs vallen vooral in positieve zin op door de originele sound. Kung Funghi combineert hier stoner, punk en alternatieve rock.
Zanger Vincent Momeni is een van de uitblinkers met een afwisseling van kwetsbare zang en galspuwende (aan elkaar) screams. In opener Kill Or Be Killed komt Momeni's vocale uitbarsting na het rustige begin lekker hard aan. Ook in One Eyed Skoll valt het op hoe veelzijdig de frontman is. De song zelf klinkt als een geslaagd huwelijk tussen Kvelertak en Red Fang.
Een ander pluspunt is het dubbele gitaarwerk van David Örfelth en Mattias Häggström Gerdt. De heren combineren op deze ep dikke, fuzzy riffs met speels, experimenteel gitaarspel. Hierbij wordt er veel gebruik gemaakt van hoge, lang aanhoudende noten. De manier van spelen doet denken aan de stijl van Tom Morello (Rage Against The Machine). Son Of A Goat-Dog en Zugzwang houden het niveau hoog. Eerstgenoemde heeft qua opbouw wat weg van Queens Of The Stone Age. Wanneer Momeni hier weer zijn kwetsbare zang inzet, is het opvallend hoe zijn stem lijkt op die van Robert Smith van The Cure.
Kung Funghi verdient vooral aandacht vanwege het avontuurlijke karakter van de songs. De manier waarop de band schakelt tussen de rustigere passages en de agressieve erupties is bewonderenswaardig. Origineel uit de hoek komen is geen gemakkelijke opgave meer in de rockmuziek. Kung Funghi doet dit wel en daarom hebben deze Zweden zeker een streepje voor. Een prima eerste visitekaartje.
Tracklist:
1. Kill Or Be Killed
2. One Eyed Skoll
3. No Name
4. Son Of A Goat-Dog
5. Zugzwang
Reviewer: Hugo
Toegevoegd: 9 februari 2017
Meer Kung Funghi: