Cień - Time Of Desolation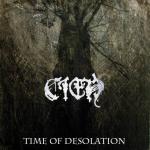 Dynamiek; het lijkt wel een voorwaarde om tegenwoordig een goede plaat af te leveren. Wie verschillende stijlen beheerst en op zijn release toepast, scoort doorgaans hoger. Dat dynamiek ook verkeerd uit kan pakken, bewijst de eerste full-length van Cień.
Ecce Homo
bevat folk, black-'n-roll en zowel agressieve, melodische als depressieve black metal, maar die stijlen zijn in een paar tracks niet goed op elkaar afgestemd.
Op Time Of Desolation, een ep die voorafging aan Ecce Homo, laten de Polen ook horen verschillende genres te beheersen, maar maken ze niet de fout om de afwisseling daarvan ten koste te laten gaan van de flow. De ep luistert dan ook lekkerder weg dan de lp. De neerslachtige black metal houdt de sfeer namelijk beter vast, en dat terwijl er veel variatie is: van de 'Celtic Frost meets Sonic Youth'-riff aan het begin van Despair, Tears And Blood tot de Katatonia-vibe in Where Is Your God? of het hogere tempo in The Wave.
De melodieuze tremoloriffs vormen samen met een eenvoudige ritmesectie (waarvan de bas goed hoorbaar is en in bijvoorbeeld de opener wat toevoegt) de basis van de muziek. Daaroverheen klinken de verstaanbare, raspende blackmetalvocalen (en in Where Is Your God? de duivelse, verhalende variant zoals we die kennen van Attila Csihar van Mayhem) en de fraaie atmosferische (postrock)leads.
Het gitaarwerk is de sterkste troef van Cień. Dit komt met name in de instrumentale passages tot uitdrukking, zoals de tweede helft van Where Is Your God?, waarin ook de akoestische gitaren mooi zijn verwerkt. Datzelfde geldt voor het prima afsluitende The Clock. Soms verlopen de overgangen echter niet heel mooi of mist er fantasie (begin van The Wave en riffs in Dead Or Alive) en kun je horen dat er een beginnende band aan het werk is.
Time Of Desolation is een aangename kennismaking met Cień. De depressieve, atmosferische black metal ligt lekker in het gehoor en bevat genoeg interessante ideeën om het halve uur uit te zitten. Verwacht geen toprelease, maar een aardige schijf met sfeervolle muziek. De Polen laten horen over genre-overstijgende kwaliteiten te beschikken. Het is dan ook een teleurstelling dat deze potentie er nog niet uitkomt op Ecce Homo.
Tracklist:
1. Despair, Tears And Blood
2. Where Is Your God?
3. The Wave
4. Dead Or Alive
5. The Clock
Score: 72 / 100

Reviewer: Jeffrey
Toegevoegd: 17 september 2015
Meer Cień :