Count Absurdo - The Night Of The Living Soil EP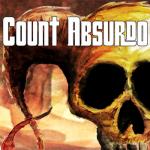 Nauwelijks kan ik iets op internet vinden over deze Finse doom metalband. Ik ga me bijna afvragen of dat een reden heeft, want er staat niets op The Metal Archives, Last.fm en Facebook. Ieder bandje steekt wel enige energie in social media, maar Count Absurdo heeft alleen een account op Bandcamp, waar deze EP volledig te beluisteren is. Ondanks dit alles heeft de promo me wel weten te bereiken en nog steeds weet ik niet goed wat ik hiermee moet.
Absurd is dus wel op z'n plaats. De bandnaam is goed gekozen. The Night of The Living Soil is het eerste levensteken van deze verder obscure band. 'Obscuur' is in mijn reviews vaak een positief woord, maar dat ligt hier wel anders. Het eerste dat bij deze drie nummers opvalt, is hoe afgrijselijk het ingezongen is. We kennen allemaal mensen die niet van metal houden, maar wel ongenuanceerd gaan krijsen als ze een metalzanger proberen na te bootsen. Dat is het beste idee dat je kan geven van Count Absurdo. Het klinkt zo absurd dat het grappig wordt. Alsof je een erg foute B-film aan het kijken bent.
Deze Finnen laten op z'n zachtst gezegd geen goede indruk achter, maar wanneer de frontman zijn muil houdt, valt op dat het instrumentale deel een stuk beter is. Nog altijd hoor je hier geen wereldniveau, maar het is toch minstens verdraagzaam. Tijdens From Dusk Till Doom wordt het zelfs even aangenaam. Count Absurdo heeft nog een lange weg te gaan en eerlijk gezegd verwacht ik niet dat ik ooit nog van deze band ga horen.
Tracklist:
1. Welcome To The Mansion
2. Countess Absurdo
3. From Dusk Till Doom

Reviewer: Ruud
Toegevoegd: 18 februari 2015
Meer Count Absurdo:
Count Absurdo - The Night Of The Living Soil EP
Reactie van Quarlon op 18-02-2015 om 18:41u
Score: 65 / 100
De eerste track met de 'screams' is idd niet om aan te horen. In de andere twee tracks wordt er meer van een lage, soms gesproken, stem gebruik gemaakt die meer verwantschap heeft met de gothic scene. Het 2e nummer vind ik best goed. Het 3e nummer dat vnl instrumentaal is, met wat invloeden uit bluesrock, is ook niet slecht maar ook niet schokkend.