Sammath - Godless Arrogance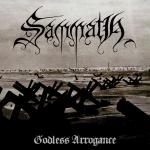 De Nederlandse black metal band Sammath brengt met
Godless Arrogance
zijn vijfde album uit. Het wat meer melodieuze
Dodengang
uit 2006 en het agressieve
Triumph In Hatred
uit 2009 werden bijzonder goed ontvangen door de liefhebbers van extreme muziek. De band valt in het genre black metal, echter death, thrash en speed metal invloeden zijn ook duidelijk te horen. Ondanks dat de band al bestaat sinds 1994, is de band weinig bekend bij het grote (metal)publiek.
Godless Arrogance
wordt uitgebracht door Hammerheart Records. De band hoopt met deze nieuwe platendeal en het uitbrengen van
Godless Arrogance
een groter publiek te bereiken.
Shot In Mass zorgt voor een knallend begin van dit album. Bij het horen van het eerste nummer, durf ik in ieder geval al te zeggen dat Sammath alleen geschikt is voor liefhebbers van extreme muziek. Fear Upon Them knalt direct verder, met halverwege dit nummer eindelijk een korte adempauze. Daarna raast het album weer verder. Om het album pakkender te maken, had er iets meer melodie in de nummers mogen zitten. De productie is vrij helder. Hierdoor komt de krijs van Jan Kruitwagen goed naar voren. Ook de vernietigende drumpartijen van Koos Bos komen goed tot hun recht. Godless zorgt voor een klein beetje melodie en geeft mij het gevoel dat ik naar een album van Marduk aan het luisteren ben.
Sammath laat het tempo nauwelijks zakken, de onafgebroken razernij doet mij regelmatig denken aan de band Endstille. Alle nummers worden in een oorverdovende brei van ellende op je afgevuurd. Thrive Of Arrogance en Through Filth And The Remains Of Man zijn voor mij de hoogtepunten van dit album. Deze nummers laten een uitstekende afwisseling horen tussen snelle death metal riffs en typische black metal passages. Klein minpunt zijn de abrupte onderbrekingen van lekkere black metal passages, hierdoor luistert het album minder gemakkelijk weg.
Sammath stort met Godless Arrogance in ruim 36 minuten een bak ellende over je heen. Oorlog, dood en verderf, die sfeer weet Sammath uitstekend te creëren. Zelden heb ik zo een agressief album gehoord. Godless Arrogance raast als een trein aan je voorbij. Sammath levert een uitstekende release. Een groot publiek gaan ze hier niet mee bereiken, daar is de muziek simpelweg te extreem voor. Godless Arrogance kan voor Sammath, mede door de nieuwe platendeal een doorbraak betekenen.
Tracklist:
1. Shot In Mass
2. Fear Upon Them
3. Godless
4. Thrive In Arrogance
5. This World Must Burn (Hammer Of Supremacy)
6. Through Filth And The Remains Of Man
7. Death (Hunt Them Down)
8. Nineteen Corpses Hang In The Mist

Score: 80 / 100

Reviewer: Rudi
Toegevoegd: 24 januari 2014
Sammath - Godless Arrogance
Reactie van jt op 24-01-2014 om 21:41u

Kan het vorige werk wel waarderen. We hebben veel kwaliteit in huis, een groots zomerfestival met alleen bands van eigen bodem zou het goed doen. Halen we nog wat legendarisch van stal, heerlijk.