Japanische Kampfhörspiele - Luxusvernichtung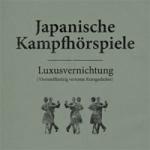 Mocht je onze oosterburen van Japanische Kampfhörspiele nog niet eerder gehoord hebben dan weet je bij het bekijken van de tracklist eigenlijk al wel waar je aan toe bent. De CD bestaat uit 54 nummers geperst in minder dan 19 minuten en een 55e instrumentale track van iets meer dan 19 minuten waar alle fragmenten bij elkaar opgeteld worden. Grindcore dus.
Met zo ongeveer 15 releases sinds 1998 ontbreekt het de heren duidelijk niet aan 'liedjesschrijfinspiratie'. En met een ondertitel die Vierundfünfzig Vertonte Kurzgedichte luidt, wordt er wederom een hoop onzin aan het toch al door hoogstaande literatuur overspoelde genre, toegevoegd. 'Maar wie van grindcore houdt luistert niet naar de teksten'. Hoor ik u denken. Laat ik het dan maar bij de muziek houden.
Wederom brengt Japanische Kampfhörspiele een flinke bak experimenteerlawaai. Zoals we gewend zijn van de herrieschoppers uit Essen is alles weer zeer strak en gebalanceerd opgenomen. Dit komt het meedein-gehalte op de door de slager gemutileerde schlagers dan ook zeer ten goede. En ook aan de karaoke-minded metalhead is gedacht: De lyrics zijn bijgevoegd, dus insteken en headbangen maar.
Toch lijkt het meer een verzameling riffs die over zijn gebleven van voorgaande sessies. Als dit dan de verzameling 'didn't make it to the record' is ligt het basisniveau best hoog, maar ik ben beter gewend van ze. Concluderend is dit niet het beste werkje tot nu toe, maar toch zeker niet onverdienstelijk. Zij die geïnteresseerd zijn in dit genre moeten dit schijfje toch wel eventjes besnuffelen.
1. Das Duale System
2. Vorort
3. Mikrokosmos
4. Momo
5. Konfekt
6. Die Vermarkter
7. Klavier Seziert
8. Explosiv
9. Pogoläden
10. Beau
11. Stunden
12. Metallica
13. Die Art
14. Die Opfer, Die Täter
15. Schmerzensgeld
16. Managerseminar
17. Guten Appetit
18. Milchgläserner Bürger
19. Der Sozialphobiker
20. Businessclass
21. Austausch
22. Rauchen I
23. Verbraucher
24. Gewinner
25. Leben
26. Guten Tag
27. Enttieren
28. Freitag
29. Misanthropie
30. Abi
31. Rauchen II
32. Überall
33. Werd Doch
34. Alle Müssen Weg
35. Wurstscheiben
36. Vernetzte Welt Geht Unter
37. Achtunddreissig
38. Sklaven Der Uhr
39. Dyskalkulie
40. Krise
41. Sie Schreiben Drauf
42. Zerhätschelt
43. Nicht Folgsam
44. Herrenloser Koffer
45. Liebe Islamisten
46. Essen
47. Talk
48. Meine Spannenden Nachbarn
49. Vollkommen
50. Würde
51. Halsabschneider
52. Alle Regler Auf Anschlag
53. Das leichte Leben
54. Alles Nochmal Auf Anfang
55. Ohne Titel (Alle Riffs Zusammen Ohne Geschrei )

Score: 70 / 100

Reviewer: Wouter
Toegevoegd: 16 september 2009
Meer Japanische Kampfhörspiele: