Japanische Kampfhörspiele / Eisenvater - Split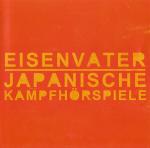 Japanische Kampfhörspiele timmert sinds 1998 aan de spreekwoordelijke grindweg. De discografie bestaat voor een groot deel uit cd-r's, 7"'s en splits. Mocht je echter de zoveelste slecht geproduceerde herrieband verwachten kom je bedrogen uit. Naast hun eigen drie nummers staat er ook een track van Eisenvater op deze split. Deze death metal band die in de jaren '90 uit elkaar ging, levert één track af als voorproefje van hun eerste release sinds hun hereniging.
Vreemd- en jammergenoeg wordt deze split ook door deze band geopend. Vater Kommt! ligt qua muziek aan de andere kant van het muzikale spectrum als Japanische Kampfhörspiele. Dit geldt overigens ook ten opzichte van wat de band zelf vroeger uitbracht. Het is een avant-gardenummer in de trant van Melvins en Pelican. Het Duitstalige half-gesproken gekweel is weinig indrukwekkend, maar gelukkig is het laatste deel van het nummer instrumentaal. Voor liefhebbers van het genre is het album IV, waarop het zal verschijnen, het uitproberen waard.
Dan is het gelukkig tijd voor Japanische Kampfhörspiele. Onlangs speelden ze nog in het voorprogramma van Macabre en dat was een aangename live-ervaring. Naast het verplichte übersnelle ragwerk presenteert JaKa u zware symfonische keys en vreemde samples. Een vergelijking met Cradle of Filth kan dan ook niet uitblijven. Mix dit met een flinke dosis old school punk in de trant van The Exploited en je krijgt een beeld van wat de Duitsers ten gehore brengen. Helaas zijn na nog geen 7,5 minuut de drie tracks alweer voorbij. Een bijzondere band binnen het grindgenre.
Tracklist:
1. Vater Kommt!
2. Töte Den Roboter
3. Angstfrass
4. Der Pitch
Score: 70 / 100

Reviewer: Wouter
Toegevoegd: 5 juli 2009
Meer Japanische Kampfhörspiele / Eisenvater: