The Scourger - Blind Date With Violence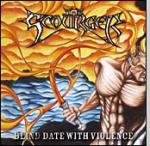 Volgens mij hebben ze in Scandinavië een metalschool. Voor iemand daar een band mag beginnen krijgt hij/zij eerst gedurende zes jaar les in metalgeschiedenis, riff-bouwles, productieles, extreme zangles en les in pakkende nummers schrijven. En daarna mag hij/zij op achttien jarige leeftijd een cd opnemen als afstudeerproject. Althans zo gelikt, onderhoudend en professioneel klinken bijna alle albums die uit Scandinavië worden geëxporteerd. Waar een gemiddelde Benelux-band eerst vijf jaar in kraakpanden en jeugdhuizen optreed om daarna een matig klinkende demo af te leveren, zo presteren onze Zweedse, Noorse, Finse en tegenwoordig ook Deense metalvrienden om een jaar na oprichting al met fantastische albums af te komen. Het is op zijn minst toch opmerkelijk te noemen.
Vorig jaar verscheen de single "Hatehead" (nummer 1 hit in het eigen Finland!) en het wordt al snel duidelijk dat de andere songs op het debuut "Blind Date With Violence" op dezelfde lees geschroeid zijn. De strakke combinatie doet denken aan het latere werk van onder andere Destruction, Slayer, The Haunted en Callenish Circle. Het gaspedaal wordt voortdurend diep ingedrukt en alles klikt als een klok. Maar daar zit ook een groot minpunt aan verbonden. De band klinkt namelijk nergens echt opwindend of verfrissend spontaan. Eindverdict: Onderhoudend met hoofdletter O.
Tracklist:
1. Decline Of Conformity
2. Grading:Deranged
3. Hatehead
4. Maximum Intensity
5. Enslaved To Faith
6. The Oath & The Lie
7. Chapter Thirteen
8. Pain Zone
9. Exodus Day
10. Feast Of The Carnivore

Score: 77 / 100

Reviewer: Kristof
Toegevoegd: 11 mei 2006
The Scourger - Blind Date With Violence
Reactie van Cainam op 09-08-2006 om 22:35u
Score: 80 / 100
Dit is gewoon een lekkere cd, nergens origineel, maar hij draait lekker weg. Voornamelijk uptempo en zo hoort het bij dit soort trashy schijfjes; midtempo trash zuigt :)