Shining (Nor) - Animal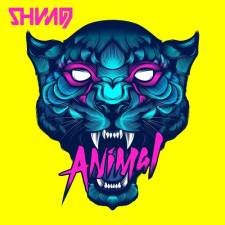 Vergeet blackjazz. Denk bij het Noorse Shining niet langer aan de krijsende, intense saxofoon van bandleider, zanger en multi-instrumentalist Jørgen Munkeby, die zijn complexe samenraapsels van metal, jazz en elektronische muziek kleurt. Na vier albums (waaronder een liveplaat) moest het roer drastisch om. Niet alleen wat betreft muziek, maar ook qua imago. De look van bozige mannen heeft plaatsgemaakt voor een bandfoto die niet zou hebben misstaan op de set van Miami Vice. De jarentachtiginvloeden zijn alomtegenwoordig en eindigen niet bij de neon cover van het nieuwe Animal.
De mannen hebben al eerder geflirt met 'popmuziek' van het zwaardere soort; nummers met een toegankelijker karakter, een duidelijke kop en staart en voorzien van minder gecontroleerde chaos. Denk maar eens aan I Won't Forget (2013) en Last Day (2015), maar die pasten nog altijd binnen de experimentele kaders van de groep. Met het pakkende Take Me en single Animal is daar geen sprake meer van. Take Me opent met een electromelodie die de jaren tachtig belichaamt, waarna Munkeby een gevoelige zanglijn inzet met een stem die doet denken aan Adam Levine (Maroon 5). In de refreinen en verderop in het nummer komt de wildeman alsnog om de hoek kijken met ruige schreeuwen en instrumentaal spettert het ook meer. De algehele teneur is er echter een van een poprocknummer. Voor doorgewinterde blackjazzfans zal het slikken zijn, maar na de initiële verrassing is het een van de betere songs van de plaat. Datzelfde geldt voor Animal, dat met emo-achtige refreinen, bezeten gitaarwerk en swingende coupletten eenvoudig weet te overtuigen.
Wennen is deze gedaanteverwisseling zeker. Vooral wanneer de daaropvolgende songs klinken als een jarentachtigliefdesbaby van Rammstein en Muse. Het resultaat is wisselend. De stembewerking en langgerekte, dance-achtige patronen in Fight Song storen en voelen zwak aan, terwijl de minimalistische elektro met gevoelige teksten het goed doen tijdens When I'm Gone, evenals de akoestische delen van When The Lights Go Out. Dat laatste geldt zeker ook voor het Berlin-achtige duet met Linnea Dale (bekend van Norwegian Idol): Hole In The Sky, hoewel deze samenwerking wel erg popperig en zoet is.
Wat betreft instrumentatie is het strak, maar valt er minder te ontdekken dan op voorgaande platen. Ondanks dat de meeste songs aardig werken en getuigen van een knap staaltje musiceren, is het na de initiële verrassing eenvoudiger de aandacht te verliezen dan dat was bij de intense metal van voorgaande schijven. De schijf is meer rechtdoorzee en voor Shining-begrippen een simpele hardrockplaat, hoewel het de meeste popluisteraars nog altijd omver zal blazen.
Animal laat de luisteraar dan ook zitten met extreem gemengde gevoelens. De Shining waar fans door de jaren heen verliefd op zijn geworden, is nog op deze plaat aanwezig, maar is tegelijkertijd overgoten met een enigszins zoete laag popvernis. Munkeby wist met zijn muziek altijd al een breed publiek te trekken. Met Animal lijkt hij die groep nog groter te willen maken door te spelen met diverse stijlen van populaire muziek. Het is wellicht een gouden greep om voet aan wal te krijgen bij liefhebbers van het clubcircuit en eclectische festivalgangers, maar zorgt er eveneens voor dat een deel van de liefhebbers van voorgaande platen afhaakt.
Tracklist:
1. Take Me
2. Animal
3. My Church
4. Fight Song
5. When The Lights Go Out
6. Smash It Up!
7. When I'm Gone
8. Everything Dies
9. End
10. Hole In The Sky
Score: 75 / 100

Reviewer: Walter
Toegevoegd: 16 oktober 2018