Hermóðr - As One With These Woods & A Moment Of Solitude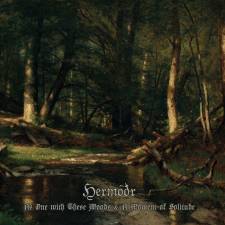 Wie een blik werpt op de discografie van Rafn (oftewel Anders Leo), duizelt het al snel van de enorme hoeveelheid materiaal die deze Zweedse 'doe-het-zelver' uitbrengt. Het kan haast niet anders of Leo is een kluizenaar die het grootste deel van zijn tijd besteedt aan het in elkaar zetten van nieuwe muziek. Zo heeft hij onder de naam Hermóðr sinds 2012 een hele wagonlading aan releases uitgebracht, waaronder zeven full-lengths en een reeks aan eps, demo's en split-releases. En dan laat ik het werk van dit heerschap voor een hele reeks andere projecten (de teller staat op bijna twintig andere bands!) nog maar buiten beschouwing. Nu is Hermóðr wel een van de meest productieve projecten waar deze Zweed aan werkt.
Het is makkelijk om op basis van dergelijke cijfers op voorhand te concluderen dat Hermóðr wel niets meer dan het zoveelste matige zolderkamerproject moet zijn. Toch blijkt de kwaliteit van de muziek die de luisteraar op As One With These Woods & A Moment Of Solitude voorgeschoteld krijgt, ruimschoots boven verwachting te zijn. Het materiaal zit erg simplistisch in elkaar, maar de meanderende, introspectieve sfeer, in combinatie met het rustieke gitaargetokkel, maakt dat dergelijk simplisme geen moment stoort. Het meditatieve karakter van de muziek doet denken aan de albums van Lustre, terwijl de melodieuze, relatief eenvoudige, maar doeltreffende gitaarlijnen verwantschap vertonen met Burzum ten tijde van 'comeback'-albums als Belus (2010) en Fallen (2011).
Het materiaal op dit album zag al in verschillende vormen het levenslicht. As One With These Woods stamt van de gelijknamige ep en hetzelfde geldt voor A Moment Of Solitude. Wolfspell Records bracht dit album begin 2018 opnieuw uit, met de bijna zeventien minuten durende bonustrack Sarnatt (eveneens eerder als ep verschenen). Openingstrack As One With These Woods is direct het sterkste wapenfeit van Hermóðr. De track klokt bijna een kwartier en dwarrelt traag als een vederlichte sneeuwvlok door de oorschelpen. Ondanks het monotone, trance-verwekkende karakter blijft het nummer dankzij goed-getimede, minimale afwisselingen boeien. A Moment Of Solitude is volgens hetzelfde stramien opgebouwd, maar beklijft net iets minder.
De vier tracks op As One With These Woods & A Moment Of Solitude leveren gecombineerd ruim drie kwartier 'mijmerblack' op, waarin iedere vorm van agressie is weggesmolten door warmbloedige golven van sereniteit. Dat maakt de muziek van Hermóðr erg prettig luisterbaar, hoewel het ingetogen en eentonige karakter niet iedereen zal weten te bekoren. Het is moeilijk in te schatten hoe deze plaat zich verhoudt tot de rest van het snel uitdijende oeuvre van Rafn – en het is waarschijnlijk dat het tiende album in deze stijl eerder gaat vervelen – maar tot nu toe scoort Hermóðr een redelijk ruime voldoende.
Tracklist:
1. As One With These Woods
2. A Moment Of Solitude
3. The Little Old Wizard
4. Saknad

Score: 70 / 100

Reviewer: Rik
Toegevoegd: 6 augustus 2018