Haken - L-1VE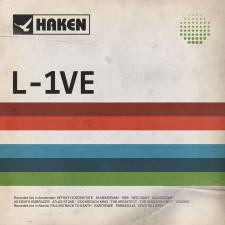 Amsterdam, 13 april 2017. In de kleine zaal van Melkweg vieren fans en geïnteresseerden het tienjarige jubileum van Haken. De progband speelt vanavond songs van alle vier albums. Vanavond moet het kloppen, want men neemt de show op voor een live-registratie voor op een cd en dvd (geen blu-ray), de eerste in de carrière van de Londenaren. Het verslag van het optreden leest u
hier
.
Hoewel niets boven een live-beleving gaat, is L-1VE beslist een goede release. Natuurlijk is er hier en daar wat gesleuteld aan het originele geluid (met name wat dubbing aan de zang), maar dat komt het luisterplezier alleen maar ten goede. Alle instrumenten en de zang zijn goed te horen. Jerry Guidroz heeft evenwel de zang heel af en toe wat te zacht en de bas wat te hard in de mix staan.
Het rauwe en enthousiaste karakter van de show is behouden gebleven. Zo is de extase van het publiek al goed te horen in Initiate. Hetzelfde geldt voor het gebrul van de ProgPower-familieleden. Ook de woorden van Ross Jennings tussen bepaalde nummers door zijn bewaard gebleven. Deze zijn echter te horen na afloop van het vorige nummer. Dus de bekende vraag van Ross ("Who wants to go back in time?") vindt niet voorafgaand aan 1985 plaats, maar na afloop van In Memoriam. Heel bijzonder.
Met zes van de twaalf tracks ligt de nadruk op het meest recente album Affinity (2016). Visions (2011) komt pas aan bod als toegift, maar het is dan wel direct het tweeëntwintig minuten durende titelnummer. Ook Aquamedley, een medley van tracks (vooral Celestial Elixir) die op het debuut Aquarius (2010) staan, duurt tweeëntwintig minuten. Ten slotte is The Mountain (2013) vertegenwoordigd en zo is er sprake van een mooie dwarsdoorsnee van de discografie met nieuwe songs en klassiekers als Cockroach King.
Ondanks dat de heren niet helemaal fit zijn tijdens het optreden in onze hoofdstad, spatten de muzikaliteit, de energie en de technische kunde ervanaf. Het is de laatste avond van de tour, maar ze geven nog een keer alles. L-1VE is voor degene die er destijds bij was een zeer aangename herbeleving, voor de doorgewinterde fan een verplichte aanschaf en voor mensen die de band nog niet goed kennen een goede introductie. De dvd bevat als bonus drie videoclips en een viertal tijdens ProgPower USA opgenomen songs. Haken, dat later dit jaar met het vijfde studioalbum komt, toont zich met L-1VE een van de vaandeldragers van de hedendaagse progressieve metal.
Tracklist Live-cd/ Live-dvd 1:
1. Affinity.exe/ Initiate
2. In Memoriam
3. 1985
4. Red Giant
5. Aquarius Medley
6. As Death Embraces
7. Atlas Stone
8. Cockroach King
9. The Architect
10. The Endless Knot
11. Visions
Tracklist Live-dvd 2:
1. Falling Back To Earth*
2. Earthrise*
3. Pareidolia*
4. Crystallised*
5. Initiate**
6. Earthrise**
7. Lapse**

*Live At ProgPower USA 2016
**Official video

Reviewer: Jeffrey
Toegevoegd: 3 augustus 2018 Koop dit album in