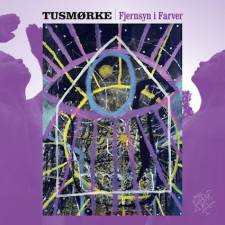 De mannen van Tusmørke hebben de laatste jaren de smaak flink te pakken. De laatste twee jaren verschenen er drie albums, waarvan
Bydyra
een progrockalbum voor en door kinderen is. De Noren maken progrock uit de jaren zeventig met een folky touch. Verwacht dus geen metal, al komt er een doomy riff voorbij in
3001
. Denk meer aan King Crimson, Yes, Camel, Van der Graaf Generator, Comus en soortgenoten.
Het folk-element komt vooral van fluitist Krizla en vocalist/bassist Benediktator, die ook glockenspiel speelt. Ze zijn samen met drummer HlewagastiR verantwoordelijk voor de percussie. Die percussie is een van de interessantste onderdelen op Fjernsyn I Farver (Noors voor kleuren-tv), dat gebaseerd is op twee concepten over licht, tijd en realiteit. De zang is een stuk minder sterk, zoals blijkt uit 3001, al blijft dat uiteraard een kwestie van smaak.
De muziek swingt soms de pan uit, zoals in het toegankelijke titelnummer, dat wordt verrijkt met allerlei bijdragen van The Phenomenon Marxo Solinas op zijn Wurlitzer, Moog, Hammond, clavecimbel, clavinet en piano. Halverwege is er een instrumentale sectie met een bas- en dwarsfluitlijn met even later een Sólstafir-achtige gitaarpartij. Ook Kniven I Kurven stemt vrolijk. Ondanks dat de nummers van veelal meer dan acht minuten grotendeels meerdere luisterbeurten nodig hebben, beklijft Kiven I Kurven vrij snel.
Elk nummer heeft een eigen identiteit. Zo is 3001 heavy en het relatief compacte Borgerlig Tussmørke de rustigste song met een The Beatles-achtig, bijna cheesy refrein aan het einde. Er zit een fijne baslijn in Death Czar, dat het tempo weer omhoog gooit en opgesierd is met swingende percussie.
Fjernsyn I Farver is een kleurrijke plaat die eerder als interessant te bestempelen valt dan als een hele goede plaat. De zang voorkomt dat een heel hoge waardering toegekend kan worden. Het zijn vooral de instrumentale bijdragen die tot tevredenheid stemmen, al moet je hier geen technische hoogstandjes verwachten. Tusmørke opent de deuren naar de progrock van de jaren zeventig en doet dat zeer aardig met wat folk- en in mindere mate psych-elementen.
Tracklist:
1. Fjernsyn I Farver
2. Kniven I Kurven
3. Borgerlig Tussmørke
4. 3001
5. Death Czar
6. Tøyens Hemmelighet