Speedclaw - Beast In The Mist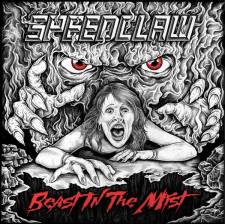 De hoogtijdagen van de heavy en speed metal herleven met deze viermansformatie uit het Kroatische Rijeka. Met de nieuwe, tweede ep van Speedclaw zou je het direct geloven wanneer iemand beweert dat dit een verloren gewaand plaatje uit de vroege jaren tachtig is. De schijf met de weinig verhullende titel Beast In The Mist (met uiterst passend artwork) bevat zes nummers waarvan de opener een (verplicht) intro is.
Het gaspedaal wordt direct flink ingedrukt met titelsong Beast In The Mist. Het dubbele gitaarwerk is degelijk met strakke riffs en een flinke lading traditionele metalsolo's, datzelfde geldt voor de zeer effectieve ritmesectie. Alleen de hi-hats zouden iets strakker mogen klinken, maar echt storend is dit niet. De enigszins grommende zang van bassist/zanger Silvano Ćosić is voorzien van een lichte (eveneens traditionele) echo en leent zich perfect voor dit type muziek. Aan echt hoge uithalen doet hij niet, maar hier en daar komt er wel een sfeervolle brul voorbij.
De nummers volgen veelal dezelfde opbouw. Ze worden ingeluid met pakkende gitaarriffs, waarna de ritmesectie zich bij het snarenwerk voegt. Wanneer dat eenmaal goed draait, volgen de vocalen en barst het metalgeweld goed los. Tussendoor zijn er de nodige solo's en breaks en de iets langere songs hebben vaak uitgebreide instrumentale partijen, bijvoorbeeld een langdurige solo (die wel wat aan Iron Maiden doet denken) tijdens afsluiter Evil That You See.
Het viertal houdt het niveau constant en levert dan ook een zeer fijne ep af waarvan elke seconde de jaren tachtig belichaamt. Het is speed metal in een traditioneel jasje. Een originaliteitsprijs zal de groep dan ook niet winnen, maar deze schijf is stroop om de mond voor eenieder die geen genoeg kan krijgen van bijvoorbeeld een Agent Steel.
Tracklist:
1. Prelude
2. Beast In The Mist
3. Faster Than Hell
4. Rising Of The Claw
5. Aggression Strikes
6. Evil That You See
Reviewer: Walter
Toegevoegd: 5 mei 2018
Meer Speedclaw: