Doomster Reich - Drug Magick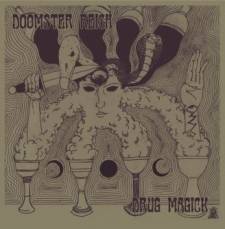 Beginnen de goede bandnamen inmiddels echt op te raken? Laten we eerlijk wezen; Doomster Reich klinkt toch nergens naar? Het is in elk geval deels duidelijk waar de band muzikaal heen wil en eigenlijk was ik wel benieuwd of Reich dan op Sacred Reich slaat. Ik kan je vast verklappen dat dit niet het geval is.
Drug Magick
doet bij doomfanaten snel een belletje rinkelen: Electric Wizard.
Voor wie nieuwsgierig geworden is of waarbij het belletje niet rinkelt, volgt uiteraard de uitleg. Doomster Reich heeft heel goed geluisterd naar Electric Wizard. Alleen Electric Wizard? Nee hoor, want ik hoor in de muziek ook duidelijk invloeden van Saint Vitus en een tikkeltje Hawkwind. Het is dus vaak best wat psychedelisch, waarmee de drug van Drug Magick wel verklaard is. De muziek draait hoofdzakelijk om het dreunende doomtapijt dat hier gelegd wordt. De muziek is lekker zwaar, maar toch gaan de gitaristen niet voluit, waardoor er veel ruimte overblijft voor nuances.
Doomster Reich gooit het niet op originaliteit, maar levert stiekem toch een heel leuk album af. Veel collega's trappen in de val van enkel zwaar willen klinken en worden daarom best saai. Doomster Reich heeft gave riffs. De heren bouwen voortdurend op, waardoor je niet minuten lang naar dezelfde noten zit te luisteren. Chemical Warfare is heerlijk zwaar en overweldigend. Black Earth, Red Sun is epischer van aard en een behoorlijk goede afsluiter. De songs zijn, gezien het genre, vrij afwisslend zelfs. Drug Magick is een verrassend goed album geworden dat zwaar en hypnotiserend is en meer de moeite waard dan je op het eerste gezicht zou vermoeden.
Tracklist:
1. Gimme Skelter
2. Rites Of Drug Magick
3. Round The Bend Satan
4. Meet The Dead
5. Chemical Funeral
6. Black Earth, Red Sun

Score: 83 / 100

Reviewer: Ruud
Toegevoegd: 18 april 2018
Meer Doomster Reich: