Japanische Kampfhörspiele - Back To Ze Roots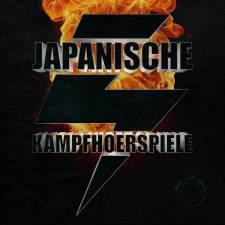 In de categorie 'O god, leven die ook nog?!' vandaag Japanische Kampfhörspiele. Na de officiële break-up in 2011 was ik de band uit het oog verloren, maar blijkbaar kruipt het bloed ook bij onze oosterburen waar het niet gaan kan en zijn ze intussen alweer twee albums verder. Daarmee is er ook niet echt een gat in de discografie. Zo lijkt die break-up meer een marketingstrategie dan een serieus einde van de band.
Hoe het ook zij, op mijn virtuele deurmat plofte het eerdaags te verschijnen Back To Ze Roots neer. En de titel geeft (zowaar) enigszins weg wat u kunt verwachten. In het verlengde daarvan roept de kenner aan de hand van de tracklist al gauw dat er helemaal niks nieuws onder de zon is. Dat klopt. Deze schijf is namelijk een viering van het twintigjarig bestaan. Ter ere daarvan besloten de herrieheren vijftien tracks opnieuw op te nemen. De fans zullen daar ongetwijfeld erg blij mee zijn, want sommige tracks verdienden best een goede remake. Kent u de band al en bent u tot nu toe niet overtuigd, dan zal deze release daar geen verandering in brengen. Kent u de band nog niet, dan is het wel een gokje waard.
In dat opzicht gaan de complimenten wel uit naar de producenten van deze plaat. Het valt absoluut niet op dat dit een verkapt verzamelalbum is. De grindpunknummers passen qua sound prima bij elkaar. Het is wellicht wat vreemd om de oude nummers met een andere zanger te horen, maar het geeft wel aan waar deze Duitsers anno 2018 staan. Wie wel houdt van technische popgrind met enige idioterieën kan deze schijf prima oppakken.
Tracklist:
1. Dresscode
2. Im Feld
3. Kieferorthopädie
4. Der Fleischdämon
5. Wir Gehen In Den Knast
6. Ich Habe Mich Entschieden
7. Gekochtes Für Tiere
8. Musik
9. Sich Für Technik Interessierende Große Jungs
10. Unpünktlichkeiten
11. Im Engelsfleisch
12. Geräte Hassen Mich
13. 1 Tonne Mensch
14. Lass Den Der Ist Nett
15. Auf Der Sonnenseite Des Globus

Score: 76 / 100

Reviewer: Wouter
Toegevoegd: 10 maart 2018
Meer Japanische Kampfhörspiele: