Lethvm - This Fall Shall Cease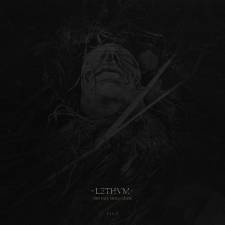 In 2015 vinden vier Belgische muzikanten uit vier verschillende plaatsen (Namen, Genappe, Brussel en Luik) elkaar. Hun gezamenlijke interesse: Cult Of Luna, Neurosis en Amenra. Het kwartet begint met schrijven van songmateriaal. In 2016 verschijnt een ep en sinds kort is de eerste full-length verkrijgbaar. De zuiderburen richten zich primair op het overbrengen van emotie; de tekstuele inhoud is van secundair belang.
Het overbrengen van emotie lukt met name in bepaalde transities. Voorbeelden daarvan: het begin van The Shades Of Minerva en halverwege The Last Grave, als een rustig deel met rituele vocalen overgaat in een uitbarsting en daarna een episch deel met gelaagde melodieën volgt. De overgang naar Winter's Journey is echter te groot en haalt de luisteraar uit de flow. Toch bevat dat nummer juist ook sterke momenten. Zo is het einde erg sterk met een combinatie van vocalen waar veel wanhoop uit spreekt en een eerbiedig koor op de achtergrond.
Dat brengt ons bij de vocalen. Vincent beschikt over een enorm arsenaal technieken. Van gesproken passages tot grunts tot verschillende types screams. In het begin van Winter's Journey zijn de maniakale screams niet zo treffend, maar verder past zijn stem goed bij de muziek. Zoals in Elja, dat de eerste vier minuten ingetogen is met cleane vocalen en daarna uitbarst in een intens deel met screams en met een fraaie climax afsluit. Een sterk einde van deze plaat.
Lethvm vindt het wiel niet opnieuw uit, maar dat hoeft ook niet. Ben je op zoek naar originaliteit, dan kun je deze release beter links laten liggen. Kun je geen genoeg krijgen van sludgy doom met getergde screams, neem dan de moeite om de vrijgegeven track eens te beluisteren. Deze geeft namelijk een goede indruk van This Fall Shall Cease in zijn geheel.
Tracklist:
1. Impetus
2. Wandering At Dawn
3. The Last Grave
4. Winter's Journey
5. The Shades Of Minerva
6. An Encounter With The Sun
7. Ejla
Score: 72 / 100

Reviewer: Jeffrey
Toegevoegd: 9 januari 2018
Meer Lethvm: